Created by world-renowned sushi Chef Nobu Matsuhisa, Nobu Caesars Palace is a highly sought-out culinary destination.
Known for his seamless blend of Peruvian and Japanese elements, signature sauces, and all-around innovative cuisine, Chef Nobu's culinary excellence will leave you in awe.
While Nobu is most certainly a fine dining restaurant and arguably the best Japanese restaurant in Las Vegas overall, they maintain an approachable and laid-back vibe.
Instead of worrying about tablecloths and other frills, the food is the primary focus. Keep reading to learn all about Nobu Caesars Palace and what makes it so special.
Looking to make a reservation for an upcoming visit to Nobu Restaurant in Caesars Palace? Nobu uses the Opentable restaurant reservation platform. Make your reservation today!
Award-Winning Japanese Cuisine
The menu at Nobu features imported Japanese and Asian fish, seafood, and exotic delicacies formed into nigiri, sushi, sashimi, and more. Plus, there's a myriad of vegan, vegetarian, and gluten-free items.
Take an in-depth look at the menu below.
The Menu at Nobu Restaurant in Caesars Palace
Nobu Restaurant Menu – Caesars Palace Las Vegas
Nobu Cold Dishes
Nobu's Cold Dishes are separated into two categories: Classic and Now.
The first part features signature dishes known and loved by Nobu fans worldwide. The most popular is the Yellowtail Jalapeno.
The Oysters with Nobu Sauces also makes a great choice as it allows you to sample some of the house's famous sauces.
The second part of this menu section contains contemporary dishes with regional flair, so they will be different depending on the location.
The Toro Carpaccio with Seasonal Truffles and Tuna Avocado Cilantro make excellent choices.
Nobu Hot Dishes
Nobu Hot Dishes are also divided into Classic and Now sections.
In the Classic portion, you'll find two of Nobus's most famous dishes; the Shrimp Tempura and the Black Cod Butter Lettuce.
The shrimp is battered, covered with Japanese-style breadcrumbs, and served with the signature Creamy Spicy Sauce, a Nobu favorite worldwide, or Butter Ponzu.
The cod comes with sweet miso, ginger, and garlic chips in a butter lettuce cup.
The Now section includes Brick Oven Roasted Lobster, a fan favorite, Beef Tenderloin Yuzu Truffle Butter, and more.
Tempura
The tempura at Nobu is crispy, light, and perfect for dipping in various signature sauces. Tempura selections include Shrimp, Lobster, Tofu, mixed vegetable, and a combo with shrimp and vegetables.
If you skipped the tempura hot dishes, definitely try one of these.
Shuko
The Shuko, or snacks part of the menu, offers two classic Japanese dishes: Edamame and Shishito Peppers.
They are great for sharing, and most people enjoy them with their appetizers.
Yakimono
Nobu's Yakimono, or grilled meats, are perfectly cooked with Peruvian anticucho, teriyaki, or wasabi pepper sauce.
If you want to add a heartier option to your meal, these dishes fit the bill.
Choose Free Range Chicken, Lamb, Beef Tenderloin, or New Zealand King Salmon.
Nobu Tacos
While tacos probably aren't the first thing that comes to mind when planning a Japanese meal, you'll want to check Nobu's tacos out.
Nobu is famous for blending Peruvian and Japanese flavors, and the tacos are a perfect example of why.
They offer Vegetable, Lobster, Wagyu, and Nobu Caviar Tacos.
Vegetables
Vegetarians and meat lovers alike love Nobu's vegetable dishes. They are accompanied by delicious sauces and dressings, giving them plenty of flavor.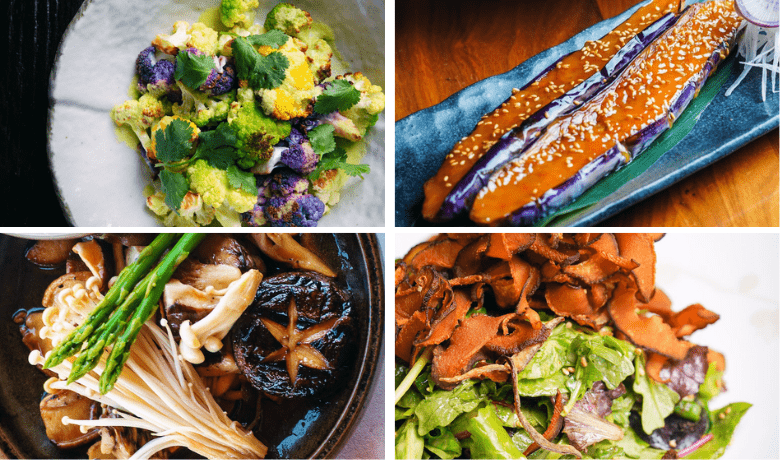 The options range from Kelp Salad to Vegetable Spicy Garlic to Mushroom Toban Yaki and beyond. I recommend the Roasted Cauliflower.
Japanese A5 Wagyu
Steak lovers are sure to be satisfied at Nobu.
They offer premium Japanese A5 Wagyu, considered the best beef in the world, and allow you to customize your sauces to match your taste.
You can also choose between tataki, new style, toban yaki, grilled, or flambe preparation styles.
Soups
The classic Japanese soups at Nobu make an excellent addition to any meal. They are also great for plant-based diets.
Options include Miso Soup with Tofu, Mushroom Soup, and my favorite, Spicy Seafood Soup.
Omakase
If it's your first time at Nobu Caesars Palace, the Omakase tasting menu makes an outstanding choice.
Omakase means trust us, and when you pick the tasting menu, you'll be trusting them to showcase their most delectable dishes without having to navigate the menu on your own.
Just beware, your entire party must participate.
Nigiri/Sashimi
Nobu's use of fine ingredients and exceptional culinary skills result in next-level sashimi and nigiri.
While they offer many familiar favorites containing salmon, crab, shrimp, and an array of fish, they also prepare more exotic delicacies like Sea Urchin and Salmon Eggs.
Order these selections as nigiri if you want rice or sashimi if not.
Nobu Cup Sushi
Inspired by sushi rolls, cup sushi contains layers of ingredients with different textures. If you've never had one, Nobu is the perfect place to try them.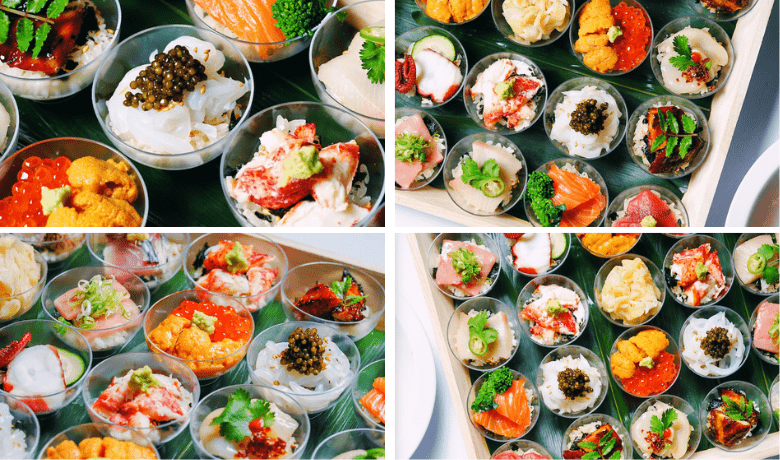 Choose between Shrimp, Snow Crab, Salmon, Salmon Egg, Scallop, and various kinds of fish.
Their chefs take great care assembling these intricate bites, so there's a four cup minimum when ordering.
Sushi Maki
Sushi Maki is rolled with rice in a sheet of seaweed, AKA nori, and Nobu's is extraordinary.
The sushi chefs prepare exotic and classic rolls like Spicy Tuna, Eel & Cucumber, California, and more.
I recommend ordering several sushi rolls, including the House Special, to share at the table.
Teppanyaki
If you're lucky enough to reserve a spot at one of Nobu's Teppan tables on Friday and Saturday nights, prepare for a truly exclusive dining experience.
Not only is Nobu Caesars Palace the only U.S. location to offer teppanyaki, but the tasting menu features dishes not found on other menus.
Dessert
Nobu's desserts are tastefully unique and inspired.
From distinct renditions of creme brulee, chocolate cake, and cheesecake to mochi, there is a sweet treat for every taste.
My favorite is the Coconut Haupia which consists of chocolate-glazed coconut pudding and crispy coconut toppings.
I strongly recommend saving room for one of these culinary delights.
Beverages
While Nobu's bar serves elevated cocktails and premium wines, the main attraction is their extensive list of sakes from the Hokusetsu brewery.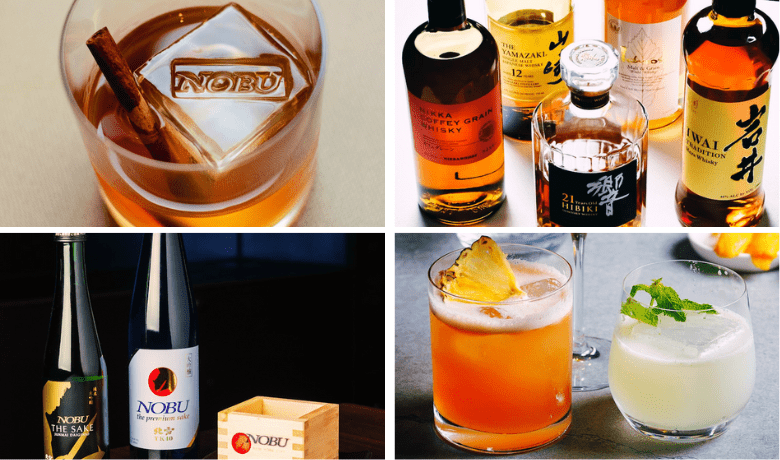 Their curated selection includes four rare sakes and a collection made exclusively for Nobu restaurants.
Nobu is the only purveyor of Housetsu sake in the U.S., so you'll definitely want to give it a try.
Reservations at Nobu Restaurant in Caesars Palace
Nobu Restaurant in Caesars Palace uses the Opentable restaurant reservation platform, making it easy for diners to find availability, make a reservation, receive confirmation, and edit/cancel a reservation if plans change.
Opentable doesn't require you to create an account, but if you do, you can earn points each time you make a reservation and complete your dining experience. Points can be redeemed for various perks including Amazon Gift Cards!
A Stylish and Modern Space with a Sophisticated Vibe
Nobu Caesars Palace has an undeniable air of sophistication without being flashy.
Their modern dining spaces are filled with quirky design accents and beautiful light fixtures to create an approachable yet refined atmosphere.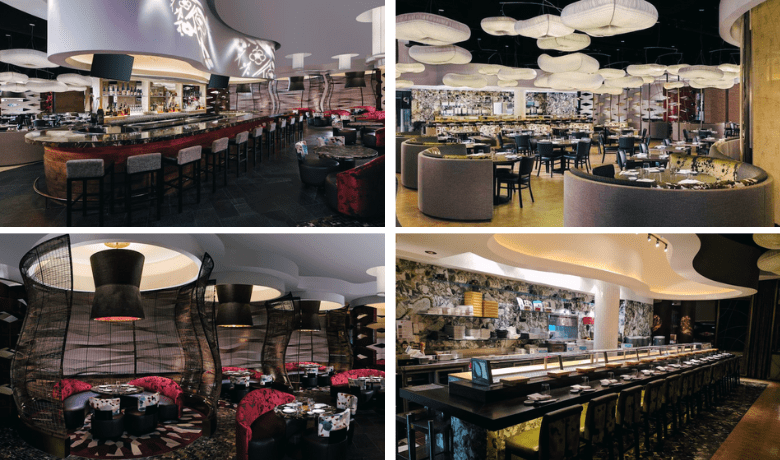 They are the largest Nobu location to date and, in addition to the main dining area, have a stylish lounge that is great for groups, date nights, and cocktails.
Things To Know About Nobu in Caesars Palace Hotel
Location: Nobu is off the casino floor, next to the Elevator to Nobu Hotel and across from Montecristo Cigar Bar.
Hours of Operation:
Sunday-Thursday – 5 PM-10 PM
Friday & Saturday – 5 PM-11 PM
Hours subject to change
Dress Code: Nobu's has a business casual dress code. Slacks, collared shirts, and dressy attire is preferred.
Price: Couples can expect to pay between $250 and $350 for a meal, including appetizers, entrees, sake, and a dessert.
Caesars Rewards Dining Perks: Caesars Palace is a part of Caesars Entertainment, so if you're a Caesars Rewards member, you can earn points for dining. Membership is free. You can even pay for your meal or part of it if you have enough points. You can find more information here at Caesars Rewards.
Nobu in Summary
Nobu has a world-renowned reputation for culinary excellence and unmistakable sophistication.
Even if you've been to another Nobu before, the Caesars Palace location is worth visiting.
It is the restaurant's largest location, is the only spot in the U.S. with Teppan tables, and is highly regarded as Las Vegas's best Japanese restaurant.
I hope this in-depth review was helpful, and thanks for checking us out here at the Las Vegas Report!
If you're looking for more dining options at this amazing resort, check out our complete guide to restaurants in Caesars Palace Las Vegas.