Created by Chef Ranier Becker, Zuma is the best Japanese restaurant for enjoying informal izakaya-style dining, which is perfect for sharing.
While the cuisine is authentic, it is simultaneously modern and often bolder in flavor than traditional Japanese fare, so you're definitely in for a treat.
You'll also love their world-class cocktails and elegant atmosphere.
Below you'll find a comprehensive review of Zuma's lavish atmosphere, bold cuisine, dress code, and more so you will be more than prepared when you visit.
Looking to make a reservation for an upcoming visit to Zuma Restaurant in the Cosmopolitan? Zuma uses the Opentable restaurant reservation platform. Make your reservation today!
Informal Izakaya Style Cuisine and Expert Sushi
The dishes at Zuma are designed to be shared and delivered to your table continuously for prolonged enjoyment.
They are elegantly presented and come from three strategic kitchens, the principal kitchen, robata grill, and sushi bar, to bring you an eclectic array of fine Japanese cuisine.
The Menu at Zuma Restaurant in the Cosmopolitan Las Vegas
Zuma Restaurant Menu – Cosmopolitan Las Vegas
Nigiri Sushi / Sashimi
At a Japanese restaurant like Zuma, there's no better place to start your meal than with sushi and sashimi.
They use only the finest ingredients and have expert sushi chefs who make what they do look easy.
Enjoy fresh options such as Jumbo Sweet Shrimp, Fatty Tuna, Yellowtail, Sea Urchin, and more.
Zuma Special Sushi
Zuma's Special Sushi rolls are indeed unforgettable. Whatever you do, don't miss out on these outstanding creations.
The first is a Wagyu Beef roll with daikon and black truffle. The second is a Salmon Nigiri that is torched for enhanced flavor.
You also have the option to order a Chef's Selection of sushi, including multiple sashimi and nigiri variations.
Maki Rolls
While many of Zuma's maki roll options are familiar, their careful preparation and premium ingredients make them truly out of the ordinary.
While you find favorites like Spicy Tuna and Salmon Avocado, you'll also have the option to savor more adventurous rolls like the Dynamite Spider Roll with softshell crab.
Omakase
If you prefer to let the chefs design the perfect meal for you and your table, the Omakase tasting menu is the ideal solution.
Zuma offers two variations, Signature and Premium, and they both give you a tour of the menu so your group can simply sit back and enjoy.
For the utmost decadence, you can also add the Chef's Caviar Platter with Japanese condiments.
Snacks and Soups
The Snacks and Soups menu section contains dishes that make excellent appetizers, including Wagyu Gyoza with black truffle and Edamame.
It also features tasty seafood snacks like Fried Softshell Crab with wasabi mayonnaise, Prawn and Black Cod Gyoza, and Spicy Lobster Miso.
Plant-based diets will love the White Miso Soup with tofu, wakame, and scallion.
Salads and Cold Dishes
Also great as appetizers, the Salads and Cold Dishes at Zuma feature bright flavors and premium ingredients assembled to bring you mouthwatering plates on the lighter side.
The Seared Tuna with chili daikon and ponzu is a house favorite.
Vegetarians also have several options in this section, including Spicy Fried Tofu, Steamed Baby Spinach, and my favorite, Avocado and Asparagus Salad with lemon honey dressing.
Tempura
If you love tempura, like most of us, Zuma's is sheer perfection.
Not only do they offer the typical Assorted Vegetable option, but they also prepare Rock Shrimp with Chili Tofu and Lobster tempura.
The lobster comes with 1 ½ pounds of tender meat and spicy sauces; yum!
Signature Dishes
The Signature Dishes menu section is full of amazing plates that showcase Zuma's culinary excellence. I strongly recommend choosing one of these creations for the table.
With specialties like Roasted Lobster, Black Cod, and a vegetable Rice Hot Pot, there's something for every palate.
For something spicy and savory, try the Spicy Beef Tenderloin with sesame, red chili, and sweet soy.
Robata Skewers
Starting with the robata skewers, Zuma has a fantastic array of robata-style offerings, all of which are slow-grilled over charcoal, similar to barbecue.
Their skewers make great appetizers or the perfect add-on to any meal. Choose between Sake Marinated Chicken Wings, Kurobuta Pork Belly, or Grilled Scallops.
Robata Seafood
Another great way to enjoy Zuma's premium seafood is with one of their robata seafood selections. They are made with fresh fish and bright seasonings enhanced by delicious roasted flavors.
The Branzino with burnt tomatoes and ginger relish is a fan favorite.
However, the Salmon and the Grilled Chilean Seabass also make excellent choices.
Robata Meat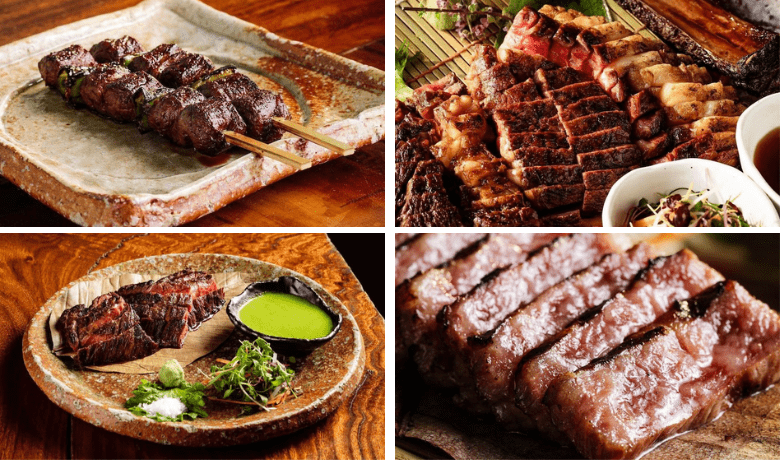 When it comes to robata, meats are typically the first thing that comes to mind, and at Zuma, they have some excellent choices.
From Tomahawk with truffle soy to A5 Wagyu with the option to add black truffle, these selections are juicy and unforgettable.
Other meat choices include Skirt Steak and two different Rib Eye options, one bone-in and the other with a tasty chili ponzu.
Robata Vegetables
Zuma also prepares various robata vegetable selections that are slow-grilled and expertly seasoned to achieve the perfect flavor and texture.
While they are all popular, the Roasted Potato with shiso butter and sansho lime salt is my favorite.
They also have Shitake Mushrooms, Asparagus, and Sweet Corn.
Beverages
Staying true to their izakaya theme, Zumi's bar offers a range of contemporary drinks, including Japanese beers, whiskeys, a large selection of sake and wine, and award-winning cocktails exclusive to the Las Vegas location.
They only use premium spirits and fresh fruits and vegetables, leading to optimal flavor and enjoyment.
If you're not drinking, an array of non-alcoholic drinks, green teas, black teas, fresh teas, and coffees are also available.
Desserts
The unique desserts at Zuma feature tropical flavor combinations complemented by fresh fruits.
Perfect for sharing, the Zuma Deluxe Dessert Platter allows you to sample a chef's selection of sweet treats, making it the best way to get the full experience.
If you prefer a lighter sweet treat, the Exotic and Seasonal Fruits with sorbet is the perfect solution.
Or, for a bold finish to your meal, try one of their dessert wines, sakes, or cocktails.
Reservations at Zuma Restaurant in the Cosmo
Zuma Restaurant in the Cosmopolitan uses the Opentable restaurant reservation platform, making it easy for diners to find availability, make a reservation, receive confirmation, and edit/cancel a reservation if plans change.
Opentable doesn't require you to create an account, but if you do, you can earn points each time you make a reservation and complete your dining experience. Points can be redeemed for various perks including Amazon Gift Cards!
Upscale Sophistication
Zuma has a deluxe atmosphere and a refined ambiance. The restaurant's design features various spaces perfect for accommodating groups and special occasions of all kinds.
The main dining room is decorated with organic materials like natural stone and has large wine displays that add to the elegant vibe.
They also have a gorgeous wooden bar, a sushi and robata counter, a raised booth section, and two beautiful private dining rooms with sweeping city views.
Things To Know About Zuma in the Cosmopolitan Hotel
Location: From the casino, take the Boulevard Tower Elevators up to Level 3. Zuma will be right in front of you, between Blue Ribbon and STK.
Hours of Operation:
Sunday-Thursday – 5:30 PM-11 PM (last seating at 10 PM)
Friday & Saturday – 5:30 PM-12 AM (last seating at 11 PM)
Hours subject to change
Dress Code: Zuma's dress code is upscale casual. While the environment is informal overall, dressier clothes, blouses, and collared shirts are preferred, but sandals and shorts are still permitted.
Price: Couples can expect to pay between $200 and $300 for a meal with appetizers, entrees or sushi, cocktails, and a dessert.
Identity Rewards Dining Perks: Cosmopolitan Las Vegas has a player's rewards program that offers all kinds of benefits, including those for dining if you're a member. Membership is free. You can find more information here at Identity Rewards.
Zuma in Summary
Zuma's informal izakaya approach to dining is perfect for sharing an extended meal with families and friends, intimate date nights, and private events.
Their curated selection of authentic yet untraditional Japanese cuisine includes sushi, robata, and delicious dishes from their principal kitchen, ensuring an array of options for every palate.
I hope this in-depth review was helpful, and thanks for checking us out here at the Las Vegas Report!
If you're looking for more dining options at this amazing resort, check out our complete guide to restaurants in the Cosmopolitan Las Vegas.