No other place in Vegas gives you a view of a pirate ship as you munch on Mexican-inspired dishes like Senor Frog's Mexican Restaurant. The fun atmosphere, nightly events, and colorful decor make this a great spot for families and groups.
I've gone ahead and reviewed each menu section below to make your choices easy and even give you an idea of what the atmosphere is like when you sit down.
A Huge Menu With Something for Everyone
Few other Mexican restaurants on the strip can match the sheer number of options offered at Senor Frog's at Treasure Island. Not only will you find fresh Mexican dishes prepared traditionally, but you'll also get a heavy dose of American food just in case you can't decide what to go with.
Below is a complete menu breakdown of each section and which items Senor Frog's is best known for.
The Menu at Senor Frog's Las Vegas
Senor Frog's Restaurant Menu – Treasure Island Las Vegas
Starters
Try not to get overwhelmed with the huge Starter section at Senor Frog's. Mexican favorites include everything from Quesadillas and Guacamole to Mexican Street Corn and Nachos. Several options even give you several choices of meat to add to your appetizer.
All portions are big enough to share with the entire family and the prices reflect the larger sizes. The Chips and Salsa are the least expensive item at $10 but the Sampler Appetizer is $35.
Soups and Salads
While not as big as the Starter section, you still get a solid choice of soups and salads if you prefer a lighter dish to start off your dining experience. The Chicken Tortilla Soup is the signature option here but not far behind is the unique Tropical Mango Salad that comes with mango habanero dressing. Rounding out your Mexican-influenced choices is the Fiesta Taco Salad which gives you options to add chicken, carne asada, or shrimp. For those not wanting anything south of the border, A Caesar Salad is offered with an option to add chicken or shrimp.
Enchiladas & Fajitas
Sizzling fajitas and traditional enchiladas are expertly prepared at Senor Frog's. The enchiladas are all made with corn tortillas and stuffed with cheese and have a number of sides like rice and refried beans. You can choose your sauce from red, green, or mole. Prices are the same at $21 no matter which sauce you choose.
The Fajitas come just as you would expect with a base of sour cream, guac, and other options. You get to choose between veggie, chicken, carne asada, shrimp, and a trio of options. Prices range from $18 to $33.
Tacos, Burritos, and Bowls
This section is where you'll start to see some of the more unique combinations that make Senor Frog's stand out from your run-of-the-mill Mexican restaurants. The Cochinita Pibil is made with marinated braised pork and habanero sauce and should be your first option if you want to try something different. Otherwise, go with the Mahi Mahi taco that includes the freshly caught Mahi Mahi Vegas is known for.
The burritos and bowls give you the option to select your own protein but each meal will come with the same Mexican ingredients. You'll have your choice between chicken, carne asada, carnitas, veggie, shrimp, and mahi mahi. Prices range from $18 to $21.
Tortas
Only three torta options are offered at Senor Frog's but each one packs a ton of flavor. The Carne Asada, Carnitas, and Cochinita Pibil all taste authentic and come with a side of potato chips to help round out the meal. Prices are steady at $18 for each one.
Burgers
The closest thing you'll find to a regular burger at Senor Frog's is the Bacon Cheeseburger. All other options have something unique you won't find at most American restaurants, let alone a Mexican restaurant.
The Surf and Turf is the signature choice with seasoned shrimp thrown on your patty. You can't go wrong with the Mac & Cheese but you might want to take a quick nap after eating. All burgers are $21 except for the Surf and Turf, which is $25.
Entrees
You'll recognize most of the main ingredients in this entree section from other areas of the menu. Carne Asada, Carnitas, and Cochinita Pibil all make another appearance except this time they are prepared on their own with several sides.
The Chicken Mole is the only different combination that hasn't been offered in any previous menu area. The dish is topped off with a homemade mole sauce and toasted sesame seeds. Prices for all items are $23.
Seafood & Pasta
Much like the burger section at Senor Frog's, the Seafood and Pasta has a combination of different styles of food that are sure to please every palate. The signature choices are the Cilantro Garlic Shrimp and the Mango Tropical Mahi Mahi. Those that want a bit of kick to their meal will prefer the A La Diabla Shrimp that comes with chipotle sauce.
If you prefer a little less seasoning and spice with your meal the Grilled Cedar Salmon and Fettuccini Alfredo are perfect choices. You can even add some chicken or shrimp to your alfredo to bulk it up. Prices in this section range from $18 to $25.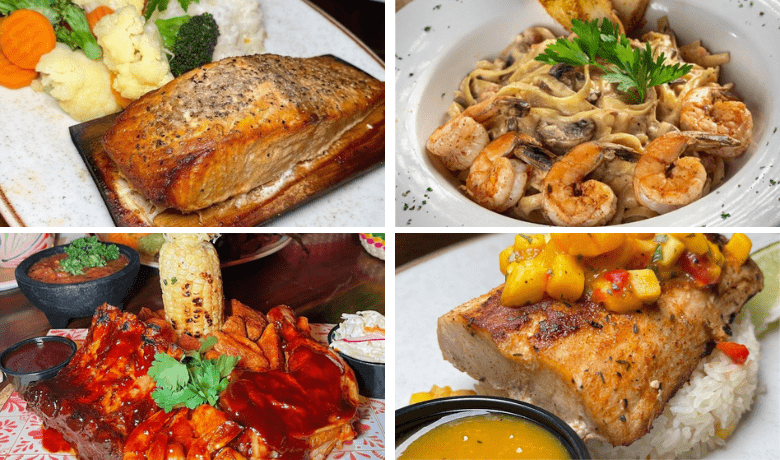 BBQ
There's even BBQ at Senor Frog's and each dish comes with a side of potato wedges, corn, and coleslaw. The same delicious BBQ sauce is used in all these dishes and you get your choice between ribs, chicken, shrimp, and a combo of all three. You'll pay anywhere from $25 to $33.
Desserts
Those who leave room at the end of their meal will be rewarded with three different options for satiating desserts. The traditional Churros are crispy and full of cinnamon but they also come with a sauce of chocolate and caramel. The Strawberries & Cream are basically strawberries with a ton of sweet cream and whipped cream on top. The Chocolate Mousse is your last option and it comes with a pair of Ferrero Rocher waffle cookie straws.
Drinks & Cocktails
The drinks at Senor Frog's are just as fun as the atmosphere. They have a 2-for-1 special on all mixed shots and each one is crafted for flavor so you can actually enjoy the experience. There are also freshly blended smoothies and a coffee cocktail. The full bar allows Senor Frog's to make pretty much anything you want.
A Colorful and Fun Dining Experience
Senor Frog's is located right behind the famous pirate ship at Treasure Island in Las Vegas, making it one of the most iconic and recognizable spots to eat on the strip. Not only will you get a great meal but you'll also get an experience unlike any other. Patio tables are available next to the water or you can choose to sit inside, protected from nature's elements.
Loud music, colorful decor, and plenty of alcohol make Senor Frog's one of the more entertaining places to eat Mexican food. It's a great choice to have a good time while eating, even if you can't hear your party half the time.
Things To Know About Senor Frog's in Treasure Island
Location: Senor Frog's is located on the casino floor at the Northeast end. It is located between Siren's Cove Shoppe and the food court.
Hours of Operation:
Mon – Wed | 5:00 pm – 10:00 pm
Thurs & Sun | 12:00 pm – 10:00 pm
Fri & Sat | 12:00 pm – 10:00 pm
Hours subject to change
Dress Code: Casual dress code at Senor Frog's. Must be wearing a shirt and shoes to receive service.
Price: For a couple dining at Senor Frog's, expect to pay between $150 – $200 including appetizers and drinks.
TI Players Club Dining Perks: Treasure Island Las Vegas has a player's rewards program that offers all kinds of benefits including those for dining if you're a member. Membership is free. You can find more information here at TI Players Club.
Senor Frog's in Summary
The entertaining and lively atmosphere of Senor Frog's is enough to warrant a meal there, but the food is just as good. The menu selection has a little something for everyone and the prices are very reasonable. As long as you know what to expect from Senor Frog's, you'll have an enjoyable time at Treasure Island. Thank you for checking out my review and for using The Las Vegas Report for all your dining and experiences on the strip.
If you're looking for more dining options at this amazing resort, check out our complete guide to restaurants in the Treasure Island Hotel and Casino.
Here's our list of the best Mexican cuisine restaurants in Las Vegas.