Plush furnishings and decadent decor welcome you into Genting Palace. Then, delicious aromas and attention to detail make you want to stay.
Curated by Chef Lok, the menu features exquisite Cantonese cuisine presented artistically for added sensory flair.
From the moment you arrive, the space surrounds you with glamor and an air of comfort.
Whether you are looking for the perfect place for dates, groups, celebrations, or a fine dining dinner with friends, Genting Palace makes an excellent setting.
This article explores the menu, atmosphere, and finer details of Genting Palace so you know what to expect and understand what makes it so special.
Looking to make a reservation for an upcoming visit to Genting Palace Chinese Restaurant in Resorts World? Genting Palace uses the Sevenrooms restaurant reservation platform. Make your reservation today!
Food/Menu
With a menu encompassing live seafood, noodles, rice, extraordinary dim sum, and more, Genting Palace has food to satisfy any palate, even the most discerning.
The following sections take an in-depth look at each part of Genting Palace's menu so you know exactly what to expect and can plan your meal to perfection.
The Menu at Genting Palace Restaurant in Resorts World Las Vegas
Genting Palace Restaurant Menu – Resorts World Las Vegas
Appetizers / Soup
An appetizer or soup is the best way to pique your interest and jumpstart your appetite.
If you're like me, you can't eat Chinese food without crispy spring rolls, and luckily, Genting Palace has two different kinds.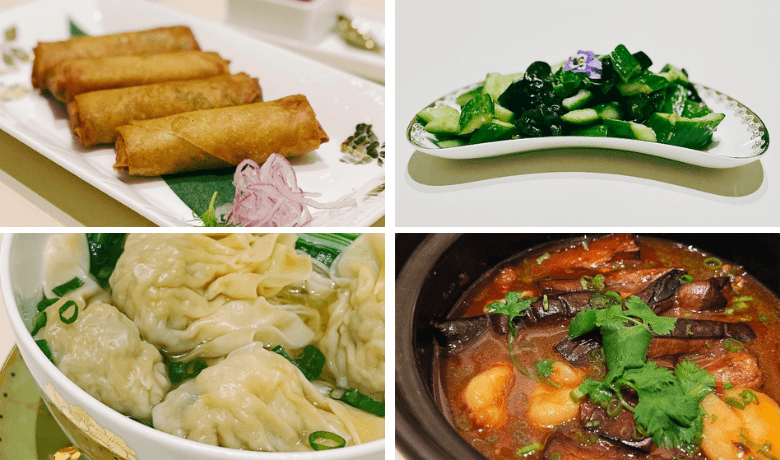 They also serve classic soups and a delicious Crispy Crab Claw. If you feel like splurging, the Braised Bird's Nest Soup makes an excellent choice.
Dim Sum
Genting Palace is known for preparing exceptional dim sum, so you won't want to skip this menu section.
Choose between Seafood Black Truffle Dumpling, Shrimp Har Gow, and Pork and Shrimp Siu Mai.
While any of these dishes make an excellent choice, I recommend the Dim Sum Platter so you can try them all, plus a savory mushroom dumpling.
Barbecue
The Barbecue dishes at Genting Place are tender, saucy, and perfectly cooked.
They offer Applewood Smoked Soy Sauce Chicken, Macau Style Roasted Crispy Pork Belly, and Barbecued Boneless Duckling.
If this is your first time visiting Genting Palace, I recommend the Cantonese Appetizer Combination because it allows you to sample several selections.
Live Seafood
While fresh seafood isn't always attainable in Las Vegas, Genting Palace makes it possible with live seafood tanks.
In their tanks, you'll find Australian Spotted Coral Grouper, Cambodian Marble Goby, Santa Barbara Spotted Prawns, Alaskan King Crab, Australian Lobster, and Maine Lobster.
In addition to optimal freshness, these selections allow you to choose the preparation method to match your preference.
Seafood
The seafood selections at Genting Palace don't come from the live tank, but you can still expect superior freshness.
The Stewed Whole Australian 2 Head Abalone, Baked Chilean Sea Bass, and Braised Seafood Tofu are Chef Lok Signature dishes.
So if you trust his palate, which you should, choosing one of them makes a solid choice.
If you enjoy spicy foods, the XO Shrimp is a fan favorite.
Poultry
The poultry entrees at Genting Palace make an excellent addition to any shared meal.
They have delectable flavors and pair nicely with everything else on the menu.
Choose between Kung Pao Chicken, Cantonese Style Crispy Chicken, and Kirin Style Crispy Chicken, a unique take on orange chicken.
They also offer Traditional Peking Duck, another house specialty, served tableside with all the classic fixings.
Pork & Beef
If you're in the mood for a premium steak, Chef Lok's signature Wok-Fried A5 Japanese Wagyu Beef Tenderloin doesn't disappoint.
It comes with Genting Palace's signature black pepper sauce, shimeji, bell pepper, and onion.
For something less extravagant, I recommend trying the Sweet and Sour Crispy Kurobuta Pork with pineapple and veggies or the Ginger Scallion Beef.
Vegetarian
While much of Genting Palace's cuisine contains meat, they also have a collection of scrumptious vegetarian selections ideal for plant-based diets or anyone who wants a lighter meal.
Spicy options include Black Pepper Crunchy Vegetables, Sichuan Vegan Impossible Meat, and Sichuan Vegan Mapo Tofu.
If you prefer something milder, the Sweet and Sour Crispy Vegetarian Pork is for you.
Rice
Two more of Chef Lok's signature dishes can be found in the rice menu section: Yang Chow Fried Rice and Truffle Crab Meat Fried Rice.
I recommend the latter. It is accompanied by butternut squash, scallions, broccoli, and of course, egg.
The Yang Chow is also excellent, especially if you love XO sauce.
Other options include Vegetarian Fried Rice, Fujian Style Braised Abalone Fried Rice, and two styles of congee.
Noodles
I strongly recommend adding a noodle dish to your entree selections. Genting Place offers carefully curated options that are familiar and unexpected.
While they have delicious Malaysian, Singaporean, and Cantonese-style selections, the Genting Palace Fried Noodles are the most popular.
Considered a Chef Lok signature dish, it comes with roasted duck, shrimp, scallops, egg, veggies, and sesame.
The myriad of premium ingredients creates a surprising and unique flavor profile loved by all.
Chef Lok's 6 Course Tasting Menu
For a chef-curated experience, select the 6 Course Tasting Menu.
It includes a collection of Genting Palace's best offerings, has the option to add a wine pairing, and showcases Chef Lok's revered taste.
The prix fixe menu also makes ordering super simple, so you can focus on enjoying time with your date or group.
Drinks
Genting Palace has a fully stocked bar with premium spirits, beer, and wine.
Whether you choose to imbibe during a meal or in their colorful, quirky lounge, they have what you need to turn any night into a celebration.
I recommend trying one of their flavorful, handcrafted cocktails like the Cherry Blossom, a fruity and fresh pink cocktail with a floating orchid garnish.
Reservations at Genting Palace Restaurant
Genting Palace Restaurant in Resorts World Las Vegas uses the Sevenrooms restaurant reservation platform, making it easy for diners to find availability, make a reservation, receive confirmation, and edit or cancel a reservation if plans change.
You can log into Sevenrooms using a Facebook or Google account or just make a reservation as a guest.
A Glamorous Fine Dining Atmosphere
Genting Palace has an alluring fine dining atmosphere, complete with decadent decor and an exceptional level of service.
After walking through a dreamy moongate entryway, their enchanting dining room with floral carpet, cherry blossom wall paneling, and modern lantern-style lighting greets your party.
The beautiful decor and welcoming vibe make it perfect for special occasions, celebrations, and intimate nights out.
They also have a private dining space for exclusive group events.
Things To Know About Genting Palace in Resorts World Hotel
Location: Genting Palace is super easy to find. It is located on the casino floor across from Baccarat and Crockfords Casino & Lounge.
Hours of Operation:
Wednesday-Sunday – 5:30-10 PM
Monday & Tuesday – Closed
Hours subject to change
Dress Code: Business casual attire is preferred. Caps, hats, flip-flops, and sandals are not permitted.
Price: Couples can expect to pay between $175 and $275 for a meal, including appetizers, entrees, and cocktails.
Genting Rewards Dining Perks: Resorts World Las Vegas has a player's rewards program that offers all kinds of benefits including those for dining if you're a member. Membership is free. You can find more information here at Genting Rewards.
Genting Palace in Summary
Genting Place is the perfect place to enjoy authentic Chinese cuisine in a fine dining setting. With specialties like XO Shrimp, exceptional dim sum, live seafood, and more, you will surely be amazed.
I hope this in-depth review was helpful, and thanks for checking us out here at the Las Vegas Report!
If you're looking for more dining options at this amazing resort, check out our complete guide to restaurants in Resorts World Las Vegas.