Everyone loves Chinese food, and in Las Vegas, they have an abundance of top-quality restaurants to satisfy your cravings.
To help make choosing the right place as easy as possible, I narrowed down your options based on stand-out amenities and top-quality cuisine.
Below you'll find a brief review of the 13 best Chinese restaurants in Las Vegas, highlighting their ambiance, signature dishes, and more.
The 13 Best Chinese Restaurants in Las Vegas
Out of all the outstanding places to eat in Las Vegas, the following 13 are our top picks for the best Chinese restaurants.
Jasmine – Best Overall
Bellagio
Widely recognized as the best Chinese restaurant in Las Vegas, Jasmine combines authentic cuisine with elegant presentations and a fine dining atmosphere.
Award-winning Executive Chef Kang Chi Lam highlights Szechwan, Cantonese, and Hunan flavors to bring you traditional favorites and regional fare on an elevated culinary level.
The house specialty, Peking Duck, is a must-try dish prepared tableside for a touch of added flair.
In addition to mouth-watering cuisine, Jasmine's scenery and location provide you with world-class refinery and an unforgettable ambiance.
The restaurant features extravagant decor with chandeliers, luxurious furnishings, and offers a spectacular front-row seat to the Bellagio fountain show through expansive windows.
Read our complete review of Jasmine Restaurant in the Bellagio.
Beijing Noodle No. 9 – Best for Authentic Cuisine in a Casual Setting
Caesars Palace
Beijing Noodle No. 9 is the best restaurant in Las Vegas for authentic Chinese cuisine in a casual setting.
The space draws you in with enormous fish tanks and upscale floor-to-ceiling decor that create a dazzling ambiance overall. Even so, the vibe is relaxed and informal.
The menu at Beijing Noodle No. 9 features a collection of delicious traditional dishes.
With saucy noodles, handmade dumplings, soft buns, flavorful vegetable plates, and various meat, poultry, and seafood dishes, there is something to satisfy any craving or dietary preference.
They also offer Chinese and Japanese spirits, beer, wine, and assorted teas.
Read our complete review of Beijing Noodle No. 9 Restaurant in Caesars Palace.
MR CHOW – Best for Special Occasions
Caesars Palace
MR CHOW is a long-standing international sensation that redefines the art of dining.
At its home on the Las Vegas Strip, you'll enjoy world-class service with a personalized touch amidst elegant, modern decor, making it the ideal place for special occasions.
Aside from the stunning atmosphere, Chinese cuisine at its finest elevates your senses and brings you an unforgettable meal.
With signature dishes like Beijing Duck, fresh noodles, Chicken Satay, and entrees from the land, sea, and sky, they've got you covered.
Each of their dishes is expertly curated and served in family-style portions perfect for sharing.
Read our complete review of MR CHOW Restaurant in Caesars Palace.
Hakkasan Restaurant – Best Fine Dining with a Party
MGM Grand
Hakkasan is the ultimate destination for an exciting evening on the Las Vegas Strip.
Not only is their reinspired contemporary Cantonese cuisine other-worldly, but it is presented in a splendid fashion and uses only the freshest, finest ingredients.
Make sure to try one of their signature dishes like the Crispy Duck Salad, the Peking Duck entree, or the Roasted Chilean Sea Bass.
In addition to exquisite culinary delights, Hakkasan's dimly lit dining room features chic decor and an intimate ambiance great for special occasions and more.
They even have a nightclub on the top floor, so the party doesn't stop after dinner.
Read our complete review of Hakkasan Restaurant in the MGM Grand.
Chin Chin Cafe & Sushi Bar – Most Eclectic
New York New York
Chin Chin Cafe and Sushi Bar is the most eclectic Chinese restaurant on the Las Vegas Strip.
Not only do they serve delicious, modern Chinese cuisine, but they also offer chef-driven sushi and are home to an American buffet in the morning.
TripAdvisor also ranks it in the top 1% of restaurants on the Strip, so you'll definitely want to check it out.
At Chin Chin, the vibe is casual, and the decor is chic, making it perfect for all kinds of occasions and groups, including families with children.
In fact, they are one of the only Chinese restaurants with a designated kid's menu.
Read our complete review of Chin Chin Cafe & Sushi Bar in the New York New York.
Mott 32 – Most Delicious Peking Duck
Venetian/Palazzo
Known for the most delicious Applewood Roasted Peking Duck around, Mott 32 offers diners elevated, regional Chinese dishes that stand out from the competition.
Chef Alan Ji highlights Hong Kong and regional flavors to bring you unexpected ingredients and familiar favorites.
You can enjoy an array of fresh seafood dishes, premium meats, delectable noodle and rice dishes, and more.
The stunning decor at Mott 32 features unique elements that blend the glitz and glam of Las Vegas with Chinese culture to create a truly Instagram-worthy setting.
The upscale casual vibe is ideal for celebrations, date nights, groups, and more.
Read our complete review of Mott 32 Restaurant in the Palazzo.
Hong Kong Cafe – Best Late Night
Venetian/Palazzo
As the name suggests, Hong Kong Cafe is reminiscent of eateries found in the region for which it is named.
Their unique style of cuisine blends authentic Asian fare with Western influences, providing you with elevated vibrant flavors.
They've got everything from dim sum to noodle soups to tender meat dishes.
Hong Kong Cafe's atmosphere is friendly and inviting. The warm, colorful decor creates a setting perfect for casual meals with friends, family, or your significant other.
Best of all, they offer their full menu until midnight or 2 AM on the weekends, so they can easily satisfy late-night cravings.
Read our complete review of Hong Kong Cafe in the Palazzo.
P.F. Chang's Las Vegas – Best with a Patio Overlooking the Strip
Planet Hollywood
P.F. Chang's is a highly reputable Chinese restaurant that can be found around the world.
At Planet Hollywood, they incorporate Las Vegas glam with the exceptional service and cuisine people have come to know and love, bringing you a memorable dining experience.
Their menu offers an array of delicious pan-Asian, Mongolian, Thai, and Korean cuisine, and they can easily accommodate varying dietary needs and preferences.
Aside from the food, P.F. Chang's atmosphere is welcoming and casual.
They are located in a stunning multi-story space and have various seating options, including an open-air patio with exceptional views of the Las Vegas Strip.
Read our complete review of P.F. Chang's Las Vegas in Planet Hollywood.
Wing Lei – Most Highly Acclaimed
Wynn/Encore
When you want to try a highly acclaimed restaurant that lives up to the opulent standards of Las Vegas, Wing Lei is the perfect destination.
They were the first North American Chinese restaurant to earn a Michelin Star, so impeccable service and culinary excellence are guaranteed.
In addition, they are a Forbes Travel Guide Five-Star winner.
The menu at Wing Lei showcases the finest Cantonese, Szechuan, and Shanghai cuisine.
The most famous dish at Wing Lei is the Imperial Peking Duck. It is cooked to melty, tender perfection and carved tableside.
Lastly, the regal decor and enchanting atmosphere ensure you feel like royalty from start to finish.
Read our complete review of Wing Lei Restaurant in the Wynn.
Blossom – Most Extensive Menu
Aria
Known for its impressive 100-dish lineup of Beijing and Hong Kong fare, Blossom's cuisine is curated to satisfy any preference.
Their menu features classic and cutting-edge dishes created by Chef Chi Kwun Choi, winner of the Epicurean Award for Best Chinese Restaurant in Las Vegas.
In addition, many of their gourmet dishes come with table-side preparation, so you can watch the magic unfold before your eyes.
Blossom's elegant decor is accentuated by beautiful latticing, striking chandeliers, plush seating, and an attention to detail that won't go unnoticed.
The ambiance of the main dining room is excellent for any occasion. However, they also have two private rooms if you prefer a more exclusive space.
Read our complete review of Blossom Restaurant in the Aria.
Honorable Mentions
While the following restaurants didn't earn a specific accolade, they are too good to leave off our list entirely.
They offer unique experiences and inspired cuisine perfect for any occasion.
China Poblano
Cosmopolitan
China Poblano perfectly blends Chinese and Mexican culture and cuisine to bring you a collection of dishes that can't typically be found under one roof.
Amidst a lively, colorful setting, you can enjoy anything from tacos, ceviche, and guacamole to Chinese noodles and Fried Rice.
Their Mango Sticky Rice is a must-try dessert.
Read our complete review of China Poblano Restaurant in the Cosmopolitan.
Red Plate
Cosmopolitan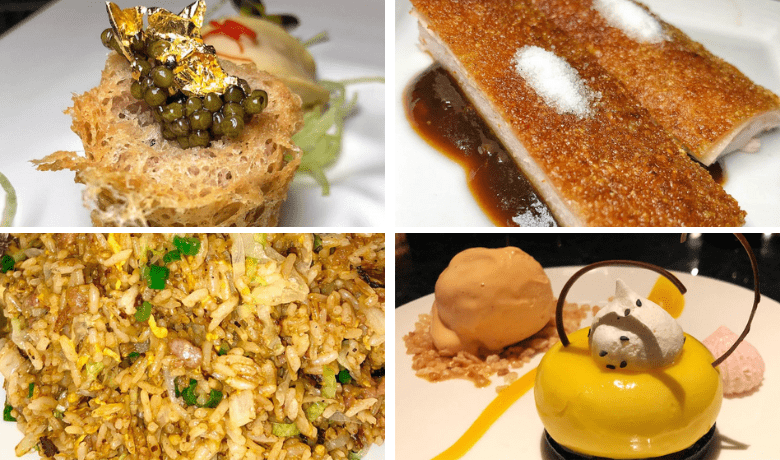 Serving authentic Cantonese cuisine with a touch of modern influence, Red Plate's menu is satisfying on many levels.
Make sure to try their signature roasted meats and house specialties like Alaskan King Crab, Black Truffle Xiao Lung Bao, and Chinese hot pot, which is a rarity on the Strip.
Read our complete review of Red Plate Restaurant in the Cosmopolitan.
Genting Palace
Resorts World
Genting Palace serves authentic Chinese cuisine in a glamorous setting with black and gold accents.
With high-quality dim sum and a variety of seafood, noodle, and rice dishes, they have a pleasing array of flavors for any palette.
They also have a beautiful lounge where you can enjoy handcrafted cocktails.
Read our complete review of Genting Palace Restaurant in Resorts World.