The Palazzo's Hong Kong Cafe pays homage to authentic cafes in Hong Kong with reimagined style and delicious authentic fare. They offer a diverse menu inspired by Asian cuisine and Western cooking techniques, resulting in a collection of mouth-watering dishes loved by all.
Hong Kong Cafe's friendly vibe is perfect for casual meals with friends or family, date nights, and more. They're also the best Chinese restaurant for late-night dining on the weekends.
Looking to make a reservation for an upcoming visit to Hong Kong Cafe in the Palazzo? Hong Kong Cafe uses the Sevenrooms restaurant reservation platform. Make your reservation today!
Diverse Asian Fare with Western Influences
At Hong Kong Cafe, you can enjoy a wide range of traditional Asian dishes influenced by Western cooking methods and ingredients. Their diverse menu ensures even the pickiest eaters will leave satisfied.
Below you'll find a complete exploration of the menu so you know exactly what to expect when you visit.
The Menu at Hong Kong Cafe in the Palazzo
Hong Kong Cafe Menu – Palazzo Las Vegas
Appetizers/Dim Sum
The appetizer and dim sum selections at Hong Kong Cafe are the best way to start your meal. These diverse dishes provide you with an array of options to suit any palate. They even have an Appetizer Sampler, perfect for sharing and groups.
The Edamame, Chilled Spicy Cucumber, and Chilled Jellyfish are perfect if you want to start off light. If you're in the mood for something crispy and fried, try their Crab Meat Wontons, Chicken Wings, Vegetable Spring Rolls, or Shrimp Tempura.
Other appetizer dishes include Pan-Fried Chicken Pot Stickers, Shanghainese Pork Dumplings, and BBQ Pork Bun.
Soup
The zesty soups at Hong Kong Cafe make excellent additions to your appetizer selections. With classics like Hot & Sour Soup w/ Shredded Pork, Shrimp & Pork Wonton Soup, and Minced Chicken w/ Sweet Corn Soup, you're sure to find something you love. Or, if you feel like branching out, try the Silkie Chicken w/ Ginseng Soup.
Congee
Congee is a savory rice porridge known for warming up your digestive system, so it's great for nursing a hangover. Even if you're feeling 100%, these dishes are excellent for starting your meal. You can choose between Plain, Shredded Pork & Thousand Yr Egg, Sliced Abalone & Chicken, or my favorite, Crispy-Fried Chinese Donut.
Soup Noodles
Soup noodle selections at Hong Kong Cafe can be enjoyed as a main course or hearty appetizer. These filling bowls come steeped in rich broths with various meats and noodles. The rare Filet Mignon, Beef Ball & Tendon Pho Noodle Soup is a fan favorite. If you enjoy spicy foods, try the Szechuan-Style Beef & Tendon Noodle Soup or the Satay Filet Mignon Vietnamese Noodle Soup.
Rice
If you're like me, no Asian meal is complete without fried rice, and at Hong Kong Cafe, you can choose from an array of savory variations. They offer traditional fried rice with the option to add beef, chicken, pork, shrimp, seafood, or vegetables. In addition, the menu includes more elaborate recipes like Dried Scallop w/ Egg White Fried Rice, Salted Fish & Minced Chicken Fried Rice, and more.
Noodles
Noodles are a staple of any Asian cafe, and at Hong Kong Cafe, they do not disappoint. Their traditional options, Pad Thai Noodles, Lo Mein Soft Noodles, and Beef Chow Fun, all make excellent choices. Other delicious options include Singapore-Style Curry Rice Vermicelli and Pan-Fried Egg Noodles w/ Shredded Pork, Mushroom & Bean Sprouts.
BBQ & Roasted
This menu section features tender BBQ and juicy oven-roasted fare prepared with decadent sauces. A house specialty, the Honey-Glazed Barbecue Pork, blends Western and Cantonese techniques to bring you a mouth-watering, slightly sweet dish bursting with flavor. Other plates include Oven-Roasted Duck, Poached Chicken w/ Ginger Sauce, and a Barbecued Combination Plate.
Entrees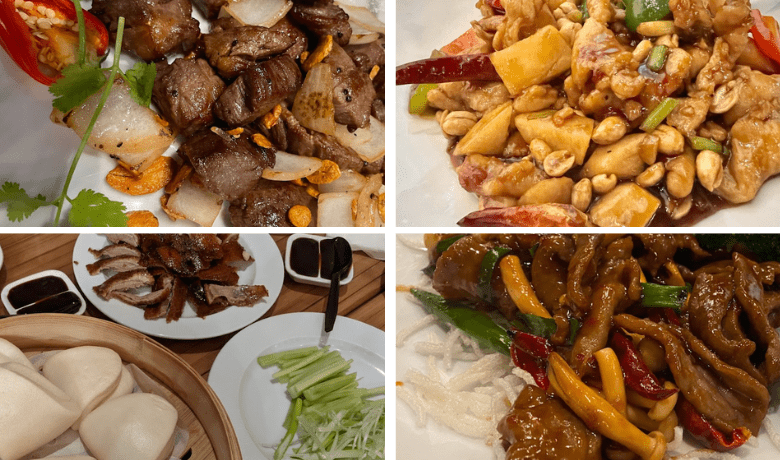 For entrees, Hong Kong Cafe prepares an array of over-the-top dishes that highlight their culinary excellence. With house specialties like Pepper-Crusted Beef Tenderloin with Golden Garlic Flakes, Pan-Seared Scallops with Szechuan Pepper Sauce, and Baked Chilean Sea Bass, you truly can't go wrong.
The whole Peking Duck is another house specialty and possibly the most popular item on the entire menu. It uses a traditional recipe, comes crispy, and is served with pancakes or steamed buns, duck sauce, green onion, and cucumber.
If you prefer a spicier entree, they have lots of options, but I recommend the Szechuan Style Chicken with Dried Chili & Peanuts. This portion of the menu also features delicious vegetarian options and a collection of traditional cuisine you're sure to know and love.
Vegetables
Whether you are vegetarian or not, the vegetable dishes at Hong Kong Cafe should not be missed. They are cooked to be crisp yet tender and come with tasty, flavorful sauces. The most popular plate is the Deep-Fried String Beans with dried shrimp, minced pork, and preserved jar choy. It has a crisp texture paired with bright flavors and can also be prepared vegetarian.
Live Seafood
The live seafood selections at Hong Kong Cafe also make excellent entrees or share plates for the table. Choose between Maine lobster, Dungeness Crab, Live Prawns, or Coral Cod. Whatever you pick, it will be made to order, so you can expect optimum freshness and flavor with these plates.
Dessert
In true Hong Kong style, the dessert menu features Asian-inspired sweet treats with a Western influence. Both the Green Tea Cheesecake and the Lychee Creme Brulee blend regional flavors to perfection. For something more traditional, try the Mango Coconut Tapioca, Crispy-Fried Sweet Sesame Ball, or Mochi Ice Cream in various flavors.
Drinks
In addition to food, Hong Kong Cafe offers assorted drinks to complete your dining experience. They have a collection of cold and room temperature sakes, various sparkling, red, and white wines, and an array of beer. To keep with the Asian theme, I recommend trying some sake or Japanese craft beer.
Hong Kong Cafe also serves delicious Asian-inspired non-alcoholic drinks, including Milk Tea, Chinese Tea, Vietnamese Iced Coffee, and more.
Reservations at Hong Kong Cafe Las Vegas
Hong Kong Cafe in the Palazzo uses the Sevenrooms restaurant reservation platform, making it easy for diners to find availability, make a reservation, receive confirmation, and edit or cancel a reservation if plans change.
You can log into Sevenrooms using a Facebook or Google account or just make a reservation as a guest.
A Lively and Welcoming Atmosphere
Hong Kong Cafe has a friendly and inviting ambiance perfect for a casual meal with your significant other, friends, or family. The chic space is filled with warm, modern decor, including intricate lanterns and a checkered floor. An abundance of vibrant colors also lends a lively, energetic feel to the atmosphere.
Things To Know About Hong Kong Cafe in the Palazzo Hotel
Location: Hong Kong Cafe is located in the heart of the Palazzo casino floor near the Love Sculpture and the Waterfall Atrium.
Hours of Operation:
Sunday-Wednesday – 11 AM-10 PM
Thursday – 11 AM-12 AM
Friday & Saturday – 11 AM-2 AM
Hours subject to change
Dress Code: The dress code at Hong Kong Cafe is casual. Pretty much anything goes except swimwear.
Price: Couples can expect to pay approximately $90 to $150 for a meal with appetizers, entrees, beer or sake, and a dessert.
Grazie Rewards Dining Perks: The Venetian and Palazzo have a player's rewards program that offers all kinds of benefits including those for dining if you're a member. Membership is free. You can find more information here at Grazie Rewards.
Hong Kong Cafe in Summary
Hong Kong Cafe has a friendly, welcoming atmosphere ideal for enjoying a casual meal with friends or family. Their Asian-inspired menu features Western influences, bringing you delicious classic cuisine with a regional twist. Best of all, they are open late on the weekends, so it's a great place to stop before or after a long night on the town. I hope this in-depth review was helpful, and thanks for checking us out here at the Las Vegas Report!
If you're looking for more dining options at this amazing resort, check out our complete guide to restaurants in the Venetian and Palazzo Las Vegas.