Positioned at the center of the Las Vegas Strip, Caesars Palace is a palatial resort offering the best of what the city has to offer. Its luxurious decor and one-of-a-kind dining experiences were created to make you feel like royalty. From formal, casual sit-downs, to quick food and drinks on the go, Caesars Place is sure to exceed your food and drink expectations.
Before we get started with our list, I'll share a pro-tip. Caesars Palace is a part of Caesars Entertainment, so if you're a Caesars Rewards member, you can earn points for dining. Membership is free. You can even pay for your meal or part of it if you have enough points. You can find more information here at Caesars Rewards.
Restaurants in Caesars Palace:
When deciding which restaurant you want to get food from in Caesars Palace, there are many things to consider. To make things easier, I broke the collection of options down into groups based on prominent features, offerings, and dining styles. The categories should help you choose the best restaurant for your needs quickly and easily.
Fine Dining Options in Caesars Palace
Las Vegas is known for having nearly limitless fine dining options, and Caesars Palace is just one example of why. When it comes to world-class cuisine and exceptional service, the resort does not disappoint. Whether you desire a mind-blowing steak, international delicacies, or a truly unique chef-driven experience, it can all be found right in the resort.
Amalfi by Bobby Flay
Italian food at its best, Amalfi by Bobby Flay offers fresh, bright flavors in an environment with coastal ease. Its menu brings you a Mediterranean taste motivated by Chef Bobby Flay's extensive trips to the Amalfi Coast.
The dining room is open for dinner and surrounds you with simple elegance. In addition, the lounge and bar area features a warm glow reminiscent of a sunset. You can enjoy one of their signature spritzes or many wines by the glass in style as you soak up the beautiful decor.
The menu at Amalfi is known for rich handmade pasta like Squid Ink Fettuccine, antipasti, a selection of meats, and distinctive desserts such as Caramel Espresso Tiramisu. To complement the main menu, the restaurant contains a market fresh seafood display with a knowledgeable fishmonger to help guide you through their current selection.
Gordon Ramsay's Hell's Kitchen
Inspired by the globally popular reality tv show, Gordon Ramsay's Hell's Kitchen makes you feel like you are on set and in the action for an unforgettable dining experience. Its Red and Blue kitchens are open for lunch and dinner and recommend business casual attire.
This restaurant is adorned with famously elegant decor and has striking floor-to-ceiling windows that facilitate a view of the Las Vegas Strip. There is also seating in a private dining room and a bar area to accommodate varying preferences. The bar is known for serving trendy cocktails like the Smoke Box in a contemporary atmosphere.
After a pre-dinner drink, you can look forward to a meal made from the highest quality ingredients. The menu features signature dishes from the show, including Beef Wellington and various delicious desserts. If you can't decide, I recommend the HK signature prix fixe menu with three courses and a complementary wine pairing. There is also a vegetarian/vegan menu, so everyone is sure to enjoy.
MR CHOW
The first MR CHOW was opened in 1968 by Restauranteur and artist Michael Chow. It is the place to go if you want impeccable service and authentic Beijing cuisine in an upscale setting. Not only is the food delectable, but the restaurant is visually stunning and has many performative aspects.
The modern, elegant aesthetic of the dining room incorporates exclusive design elements. One of which is a kinetic moon sculpture hung from the domed ceiling. It morphs into different shapes throughout your visit, giving you a show to enjoy with your meal.
MR CHOW serves up house specialties like Chicken Satay, Green Prawns, Beijing Duck, and tender filet mignon. They are also known for their fresh hand-pulled noodles, and a chef joins guests in the dining room nightly so you can see how they are formed.
An infamous champagne trolley circles the dining room, further enhancing the interactive elements of the space. Fresh specialty cocktails and an extensive wine menu are also available, ensuring you leave satisfied.
Read our complete review of MR CHOW Restaurant.
Nobu Restaurant Las Vegas
Nobu Restaurant Las Vegas features exclusive design and cooking elements to bring you a flavourful, unique dining experience that anyone can enjoy. Chef Nobu Matsuhisa is a world-renowned sushi chef known for his award-winning Japanese cuisine.
The menu at Nobu offers a wide range of exotic delicacies and imported seafood. The most popular dishes include Black Cod Butter Lettuce, Yellowtail Jalapeno, and a mix of classic and memorable sashimi, nigiri, and sushi, all of which are served with signature sauces.
Caesars Palace is home to the only US location with Teppan tables. On Friday and Saturday nights, you can book an exclusive dining experience where your meal is prepared right in front of you. It features a well-crafted tasting menu so you can sit back, relax, and enjoy the entertainment.
Nobu Lounge is perfect for large parties and dates. It has an exclusive menu available when the dining room is closed, and make sure you don't miss the three rare sakes from the Hokusetsu Brewery.
Read our complete review of Nobu Restaurant.
Old Homestead Steakhouse Las Vegas
If you are looking for classic fine dining, the Old Homestead Steakhouse Las Vegas stands out amongst the crowd. It has an East Coast steakhouse vibe and was created by brothers Marc and Greg Sherry. Together, they carry on the attention to detail that made the original restaurant established in 1868 iconic.
When you arrive, a traditional urban dining room and bar surround you with burgundy leather booths and dark wood to create a familiar, comforting appeal. Pair this with their fine cuts of meat and extensive seafood selection, and you will surely be impressed.
This fine dining restaurant is perfect if you are looking for a juicy steak, but it actually has a lot more to offer. It also has an outstanding reputation for its Fresh Shucked Oysters, Old Homestead Seafood Platter, and decadent desserts like the Big Fat Chocolate Cake.
In addition, this restaurant features a beautiful glass wine cellar with 15,000 bottles, making it the ideal destination for champagne and wine connoisseurs.
Restaurant Guy Savoy
The pinnacle of fine French dining, Restaurant Guy Savoy is your ticket to elegant Parisian-style cuisine. Developed by the Michelin-star Chef Guy Savoy, you can anticipate superior quality and unique recipes.
The menu is filled with classic, delicate Savoy dishes that people worldwide have come to love. Make sure you don't miss signature options like Artichoke and Black Truffle Soup, Colors of Caviar, and Octopus Terrine. Enjoying something from the fresh-baked bread cart is also a must.
The Krug Chef's Table option is perfect if you love fine cuisine and wine. It seats six and gives you an up-close view of the kitchen while you enjoy a specially curated 10-course meal. There are also tasting and à la carte menu options in the dining room, allowing you to customize the experience to your liking.
Restaurant Guy Savoy is open five nights a week for dinner. If you desire a formal, beautiful setting for dinner, I strongly recommend adding this restaurant to your itinerary.
Casual Sit Down Restaurants in Caesars Palace
When you are in the mood for something more casual, Caesars Palace does not disappoint. It contains a collection of laid-back restaurants that offer excellent food and service, all without the need for formal attire. If you prefer a more relaxed environment, the following dining options are your bread and butter.
Beijing Noodle No. 9
The upscale environment of Beijing Noodle No. 9 establishes a beautiful ambiance with a casual vibe reminiscent of the streets of China. Its menu features a broad selection of authentic dishes such as handmade dumplings, steamed buns, fresh noodles, and more. They also have an array of elevated cocktails to complement your meal and satisfy your every need.
Read our complete review of Beijing Noodle No. 9.
Cafe Americano
In true Vegas fashion, Cafe Americano is open 24 hours a day, so you never have to go hungry. They use high-quality ingredients to whip up classic Latin and American dishes that are fresh no matter what time you arrive. This option also offers outdoor dining on their Terraza patio, which is climate-controlled and perfect for watching the game on its many high-definition televisions.
Gordon Ramsay Pub & Grill
Styled after an authentic English pub on one side and a grill on the other, this option brings you the perfect blend of upscale food and traditional fare. It has a casual bar atmosphere supported by the recipes of celebrity Chef Gordon Ramsay. His signature Roasted Beef Wellington, Fish and Chips, and Sticky Toffee Pudding can all be devoured here.
Bacchanal Buffet
When you just can't decide, the Bacchanal Buffet has something for everyone. With open kitchens and specialty chefs, an abundance of quality food offerings are prepared right before you. Dozens of cuisines and hundreds of items are available all within one restaurant. They are open throughout the week for late lunch or dinner and all day, including breakfast on the weekends.
Quick Eats – Drinks – Coffee – Desserts
Need a snack, something sweet, or breakfast and lunch to go? Caesars Palace has got you covered. With caffeine, pastries, delicious drinks, and more, there are plenty of options to indulge your cravings and satisfy your needs all day.
Brioche by Guy Savoy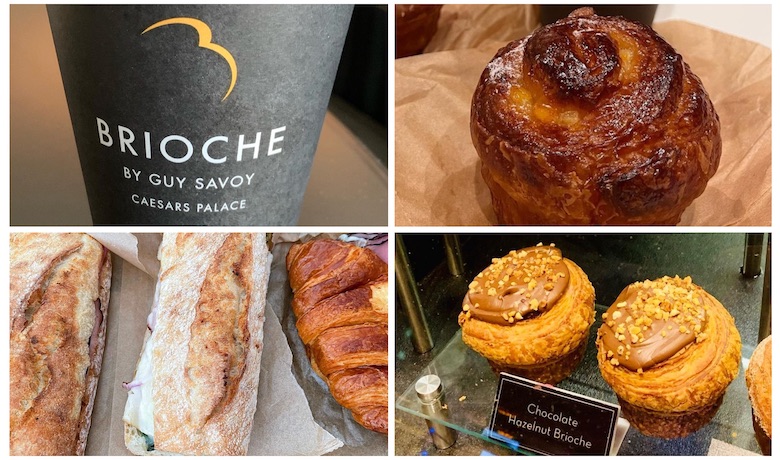 Brioche by Guy Savoy is a solid choice if you require a grab-and-go meal but still want to indulge. It allows you to enjoy the renowned cuisine of Chef Guy Savoy without making a complete stop. Treat yourself to flaky French pastries stuffed with nuts, candied fruit, cheese, and other savory ingredients at this quick cafe-style shop.
Dominique Ansel
Backed by the award-winning Chef Dominique Ansel, this eatery is truly unique. It surpasses traditional baked goods by incorporating unique flavors with an eye-catching, beautiful presentation. Stop in and try the famous Cronut, the Frozen S'mores, or a collection of other pastries, cookies, and treats.
Pronto by Giada
Open for breakfast, lunch, and dinner, Pronto by Giada brings you tasty Italian in a fast format. They make their foods from the freshest ingredients and feature items like paninis, salads, house-made pastries, specialty coffees, gelato, and antipasti. The adjacent wine bar is also perfect for complementing their meat and cheese platters.
Starbucks
Located in both the Augustus Tower and the Forum Food Hall, Starbucks is the perfect place to get your morning caffeine fix or a mid-day boost. Featuring everything you would expect from a typical Starbucks location, they are ideal for snacks and drinks on the go.
Forum Food Hall
Grabbing a quick bite at a food court is often the most straightforward solution if you need something substantial but don't have much time to sit down. The collection of eateries also allows you and your friends or family members to get different things. The following options can all be found in the Forum Food Hall.
Bobby's Burgers
Signature American eats created from Bobby Flay recipes await at Bobby's Burgers. Thirst-quenching drinks, thick milkshakes, fries, mouth-watering sauces, and of course, delicious burgers can all be found at this satisfying food stand.
Difari Pizza
Everyone loves pizza, especially when it is constructed with fresh ingredients and gourmet toppings. Difari Pizza brings you East Coast Italian-style food that hits the spot. All day hours, including late night, make this pick a fantastic, crowd-pleasing choice regardless of the time.
The Halal Guys
Delicious and customizable, The Halal Guys accommodates various dietary needs without sacrificing flavor. They offer combo platters seasoned to perfection and scrumptious international toppings. Another late-night favorite, feel free to stop by after the nightclub or anytime during lunch and dinner.
Conclusion
Caesars Palace is an outstanding and expansive resort with a broad range of dining choices that continue to expand. They even have a convenient app allowing pickup and delivery from nine locations. While you may not be able to try every restaurant on your first visit, rest assured that the ones you try will match your every need. I hope this guide was helpful, and thanks for checking out The Las Vegas Report!