Las Vegas Boulevard is home to some of the best restaurants in the world, and whether you're looking to head out for a fancy evening meal or grab a quick bite for brunch, some great and convenient options are at the Treasure Island Hotel & Casino. With bars, cafes and steakhouses alike, there's plenty of choice here!
Before we get started with our list, I'll share a pro-tip. Treasure Island Las Vegas has a player's rewards program that offers all kinds of benefits including those for dining if you're a member. Membership is free. You can find more information here at TI Players Club.
Restaurants in Treasure Island:
There are plenty of factors to consider when choosing a restaurant at Treasure Island. To make things a little easier, I went ahead and grouped restaurants based on what it may be that you're looking for:
Best Specialty Restaurants in Treasure Island
Phil's Steak House and Seafood Shack both provide guests with fantastic and unique dining experiences based on the respective restaurant's specialty. If you're in the mood for a perfectly prepared steak dinner or perhaps looking for fresh seafood, these two spots at Treasure Island have you covered.
Phil's Steak House
Phil's Steakhouse has delicious steaks and Italian dishes, served in a classic and tastefully decorated restaurant in Treasure Island. Located conveniently near the casino floor and hotel elevators, this steakhouse has an old yet elegant vibe, reminiscent of an authentic steakhouse in Italy.
Phil's Steakhouse focuses on high quality steaks, delicious hearty up-scale meals and seafood. Filet Mignon and Short Bone Ribeye are some of the more popular choices from their steak section, and you can choose from a selection of add-ons to go with your meal, including Foie-Gras and Truffles! Their seafood selection is also nothing short of impressive – including Crabs Legs, Lobster Tail, and even a Hot Seafood Sharing Platter!
Menu highlights include the aforementioned Hot Seafood Platter (choose between a serving for two or four people), Prime New York Strip and the Chicken Fried Lobster Platter.
If you're planning on making a visit here, it's a good idea to ensure you book in advance!
Seafood Shack
The Seafood Shack at Treasure Island brings a wide variety of fresh fish and seafood to the table. With an open bar area overlooking the casino, Seafood Shack is hard to miss.
The menu boasts a large selection of market fresh catches of the day, pan roasts, various shellfish, whole Maine lobster, as well as seafood salads, pastas, chowders, and fried dishes.
Menu highlights include Seafood Stuffed Mushrooms, Shack Caesar with Shrimp, Saffron Mussels, Cajun Seafood Pasta, Seafood Shack Clam Bake, Seven Seas (house specialty dish), and New England Pan Roast.
Read our complete review of Seafood Shack.
Treasure Island Dining Options With a Lively Atmosphere
If you're not only looking for great food, but also a lively and entertaining dining atmosphere these options below won't disappoint! Whether it's putting a bet on the big game or a little line dancing before or after your meal, there's something for everyone at Treasure Island.
Gilley's BBQ
If you're in the mood for a great night out at a good old-fashioned saloon and dance hall, head on over to Gilley's. The interior is highly detailed – with skulls and western memorabilia hanging from the walls, saddle seats at the bar and cowboy hats a-plenty, Gilley's brings that true Wild Western honkey-tonk feeling to the Las Vegas Strip!
Enjoy a show, grab a drink, join in with the dancing or if you're feeling up to it – have a go on the mechanical bull. Yes, you read correctly. There's a mechanical bull that you can ride!
Gilley's has incredible BBQ dishes that include various sandwiches, burgers, ribs, and briskets. Some of their menu highlights include the Cowboy Burger, BBQ Pork Sliders, BBQ Pulled Pork Sandwich, Apple-Chicken Salad and the Crispy Salmon Veracruz Style.
The atmosphere is unlike any other restaurant and the live entertainment is nothing short of fantastic. Speaking of fantastic, the White Cheddar and Green Chili Grits are a must! Sorry, I had to squeeze that in.
Señor Frog's
Señor Frog's is a lively and authentic Mexican restaurant and bar, with an unbeatable party atmosphere!
Señor Frog's has everything you'd expect from a Mexican restaurant like enchiladas, tacos, fajitas, and Mexican inspired seafood and pasta dishes. There's plenty of shareable appetizers on the menu and Señor Frog's even has options for the kids.
Try their Carne Asada Tacos or their Surf & Turf Burger if you're looking for a delicious and flavor packed meal!
Although this spot is perfect for taking the family out for an early dinner, I'd suggest heading out before the late night crowd comes in as the party tends to take things to the next level.
Read our complete review of Senor Frog's Restaurant.
Golden Circle Sportsbook & Bar
Golden Circle Sportsbook & Bar brings guests a wide variety of sports to watch on their huge video walls and numerous TVs throughout the space. With live tellers and 24 hour betting kiosks made readily available, you'll be right in the middle of all the action.
There's nothing like putting a little wager on your favorite teams or on a big game. Pair that with some awesome stadium bar food and drinks and it's a paradise for all you sports enthusiasts out there.
Golden Circle has a huge selection of drinks at the bar, and plenty of food to choose from, ranging from light bites to hearty meals.
Menu highlights include Garlic Parmesan Fries, Buffalo Cauliflower, Bases Loaded Nachos, Golden Quesadilla, The Hat Trick Sampler, The Loco Mocos, and the Golden Circle Burger.
Quick Bites – Lunches – Brunches
There's times in Vegas where you don't want a lavish meal. Sometimes a quick bite to eat away from the action or even on the go is what you'd prefer. Treasure Island makes this easy to do with the options below.
The Coffee Shop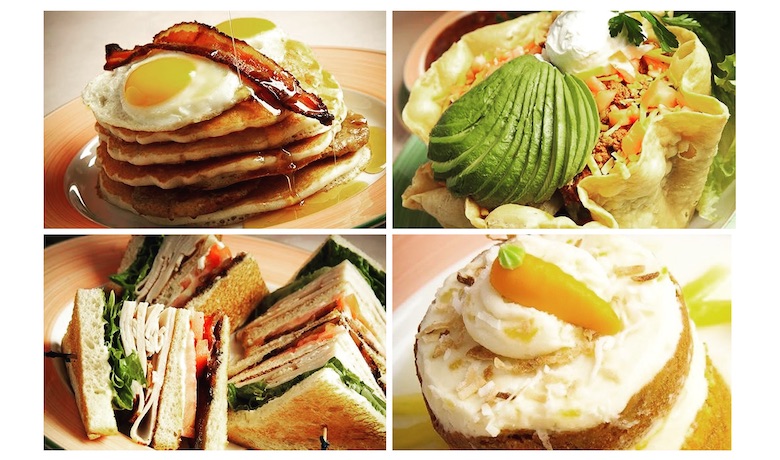 The Coffee Shop at Treasure Island is a cute and casual place for grabbing a quick bite to eat. Located conveniently just off of the casino floor and overlooking the gorgeous tropical pool, this is the ideal spot to stop off for a casual breakfast or lunch.
The little outdoor patio area overlooking the pool is a great place to sit and soak up the sun while enjoying a coffee or meal.
Open for breakfast and lunch, their food ranges from light bites to hearty meals, and includes various coffees and deserts as well.
Menu highlights include The Benedict, Breakfast Between The Buns, Ham & Cheese Omelette, Chicken Wings, and The Burger.
Pho – Vietnamese
Located next door to The Coffee Shop, Pho serves authentic Vietnamese cuisine, perfect for a simple dinner or tasty lunchtime treat. Noodle soups are the house specialty but Pho also offers a large menu of traditional Vietnamese dishes that brings tons of flavor.
Choose from a noodle soup, cold noodle dish, or rice dish, and top it off with some of the mouth watering appetizers too! Pho also has a great drink menu on offer, so you can pick a delicious cocktail to enjoy with your meal before heading out for a night on the town. The Coconut Island Punch is a personal favorite.
Pizzeria Francesco's
Pizzeria Francesco's is one of the most convenient, quick, and easy fast food places at Treasure Island. With a casual diner environment, it's a great place to grab a quick slice of your favorite pizza!
Classic Italian cuisine is at the forefront of this joint. Pizzeria Francesco's prides itself on serving a variety of Pizzas (both whole and by the slice), Spaghetti and Meatballs, Paninis, Deserts, and a Calzone of the Day!
If you're looking for a laid back atmosphere for a delicious slice of pizza, then Francesco's is the perfect place for you.
Starbucks
The coffee lovers amongst you are in luck over at Treasure Island. Little needs to be said about this world-famous coffee chain. With locations both on the strip and by the theater, stop by for a selection of gourmet Coffees, Teas, Pastries & Snacks.
Malena's Yogurt Plus
Malena's Yogurt Plus is a cute and convenient dessert and yogurt place that brings a wide variety of yogurts and sweet-treats to Treasure Island. Located nearby the Mystere Theatre, this is the perfect place to go after a show to grab something to satisfy that sweet tooth!
Beyond the large selection of gourmet yogurts, you'll also find crepes, ice cream sandwiches, cookies, and lots more!
The Food Court at Treasure Island
Nothing is faster and easier than a food court when it comes to grabbing a bite to eat. It's perfect for solo diners on the go and families looking to keep meal costs reasonable. Unfortunately, the food court at Treasure Island only has two choices. Fortunately, they both happen to be solid eateries.
Pick Up Stix
If you're in the mood for some quick and easy Asian food, head on over to Pick Up Stix. They serve a selection of delicious and hot Asian foods to either take away or eat at one of the nearby tables.
Some of their best sellers include: Grilled Bourbon Chicken, House Special Chicken, Orange Peel Chicken, Mongolian Beef, Firecracker Chicken, Cream Cheese Wontons, and of course, Egg Rolls.
Popeyes Louisiana Kitchen
Popeyes is a world-famous fast-food restaurant known globally for their signature Fried Chicken. The menu is filled with flavors influenced by traditional Louisiana cuisine and the delicious and crispy batter brings fried food to a whole new level.
Popular dishes include their world-famous Chicken Sandwich, Bonafide Chicken, and Handcrafted Tenders. They also have a selection of various southern sides to enhance your meal.
Dining in Treasure Island:
Treasure Island Hotel and Casino is an amazing resort filled with incredible restaurants. There's something for everyone and for every occasion. Whichever place you choose, you're sure to be in for a treat. I hope this guide was helpful and thanks for checking us out here at The Las Vegas Report!