This iconic pyramid shaped resort is a hard one to miss. With its shiny onyx glass and powerful beam of light that shoots into the Las Vegas night sky, the Great Sphinx of Giza welcomes all visitors to this resort known as the Luxor. This Egyptian themed resort offers guests not only a visual marvel to experience but a culinary one as well. Let's take a look at all the restaurants and eateries Luxor has to offer.
Before we get started with our list, I'll share a pro-tip. The Luxor is a part of MGM Resorts, so if you're an MGM Rewards member, you can earn points for dining. Membership is free. You can even pay for your meal or part of it if you have enough points. You can find more information here at MGM Resorts – MGM Rewards.
Restaurants in the Luxor:
For some, trying to figure out where to eat can be a difficult choice as there can be a lot of factors that can influence the decision. I've gone ahead and broken down each of Luxor's restaurants into different categories based on the most prominent features and offerings to try and make the decision more straightforward and easier for you.
Fine Dining at the Luxor
When it comes to fine dining, sometimes less is more as it can be overwhelming when you're trying to decide at one of Vegas' other mega resorts. There's only one choice here at the Luxor but it's one of the best in my humble opinion.
TENDER steakhouse + lounge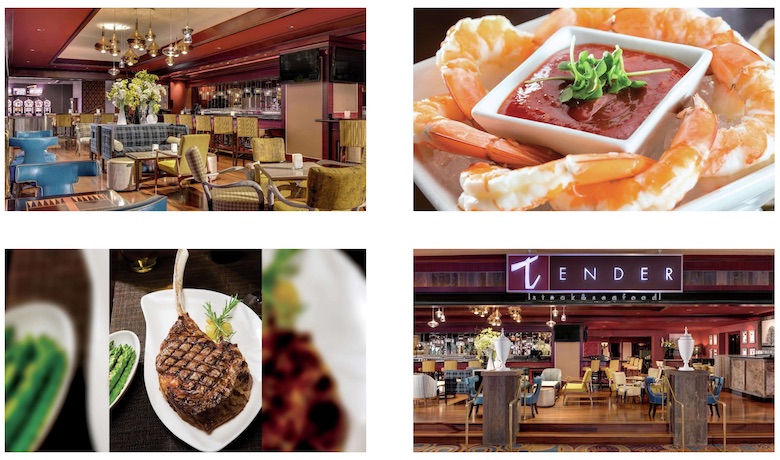 I've dined at Tender Steakhouse and Lounge numerous times over the years and it has never disappointed me so far. It's the perfect classic steakhouse and I firmly believe that it's highly underrated. One of the highlights of this restaurant is the bar area. There are high top chairs for those looking to dine on the bar top and there's plenty of sofas and comfortable seats for a pre or post dinner cocktail.
For those wanting the full sit down experience, no problem. Your host will take you through the bar area to the dining room that opens up into several larger dining areas that consist of both table and booth seating options.
Forget about fusion or contemporary dishes. Tender focuses on steakhouse classics and they pride themselves on their wet and dry aged beef. They also have plenty of shareable small plates, soups and salads, as well as the perfect enhancements and sides for your steak of choice.
Menu highlights include Burrata and Prosciutto, BLT Wedge Salad, Butcher's Cut Steak, Mishima Wagyu Steak, The Fisherman's Catch, Maryland Crab Oscar Enhancement, Garlic Grilled Shrimp Enhancement, Smoked Gouda Mac & Cheese Side, and Savage Potato Wedges.
Casual Sit Down Restaurant Options
Fine dining isn't for everyone and sometimes it's not the best fit for the situation. Each time I've stayed at the Luxor, it's been great having so many other options to choose from to fit my needs. Sometimes I'm there with the family which includes kids and other times it's been for business meetings. Regardless of the reason, I've always been pleased with the casual sit down restaurants Luxor has to offer.
Diablo's Cantina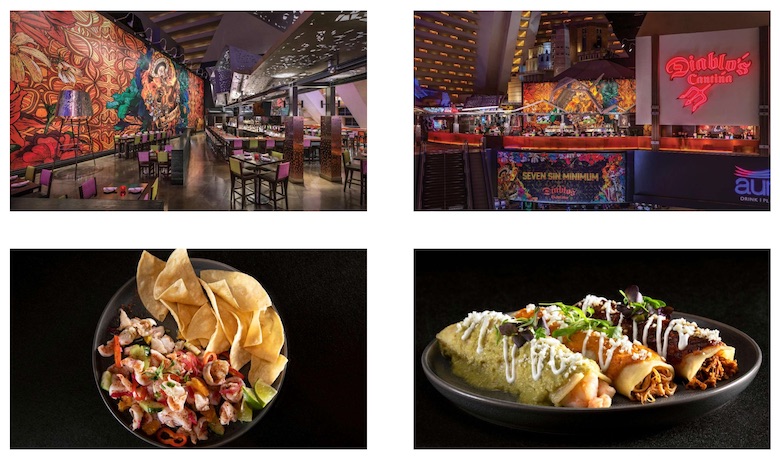 Diablo's Cantina features some of the best south of the border dishes that the Las Vegas Strip has to offer. It's located on the second floor of the Luxor and you can't miss it with all of its fiery artwork and bright red sign. There's plenty of tables with both low and high seating options depending on your preference. The huge rectangular bar is perfect for solo diners or those looking to grab a drink and catch the game.
Diablo's provides each table with unlimited chips and salsa that's freshly made in house. I highly recommend ordering the Guacamole if you're a fan. For those looking for something healthier, the Southwest Baja Caesar Salad is perfect.
Some of my other favorites include Diablo's Enchilada Platter, Pork Carnitas Skillet, Baja Style Fish Tacos, Roasted Chicken Al Pastor Tacos, Chipotle Chicken Quesadilla, Mexico City Street Corn Side, and the Fried Plantains.
With a huge selection of some of the most premium tequilas available, Diablo's makes one heckuva Margarita.
Read our complete review of Diablo's Cantina.
Public House
If you're looking for a place to grab some food, have some drinks, and catch the game on TV, Public House is the spot for you. This All American Sports Bar serves up all your favorite stadium comfort foods in a low key and casual setting. There's plenty of TVs all around this restaurant so don't worry, you won't miss any of the action.
Public House has a huge selection of beers to choose from, as well as some specialty cocktails, and wines. Like I said, it's stadium comfort food so we're talking about burgers and sandwiches, wings and fries, and other finger foods. There are a couple salads on the menu if you're wanting healthy food options, but I'd definitely go somewhere else if that's the case. They also offer classic and adult milkshakes.
For those of you who fancy a challenge, Public House has something called the, "Do It In Public Challenge" which consists of:
Four massive double cheeseburgers
A basket of loaded fries (beer cheese sauce, jalapeno ranch, bacon, and green onions)
A 22oz. milkshake
Eat it all in 30 minutes and it is FREE and you get a souvenir t-shirt
** Public House notes that participation in this challenge is voluntary and at your own risk. You release Luxor and its affiliate from all liability and damages.
Pyramid Cafe
Pyramid Cafe is the perfect place to grab breakfast or lunch when you're visiting Luxor. There's classic breakfast items like omelets, pancakes, waffles, and eggs benedict. You can order from a wide selection of breakfast sides too if you want something additional. Or if you're looking for healthier options the Oatmeal or Yogurt Parfaits are a great choice.
If contemporary breakfast is more your style, there's the Country Flat Bread Pizza that has gravy, bacon, sausage, mozzarella cheese, and two poached eggs on it! The Chocolate Bubble Waffles are more of a dessert than breakfast but hey, it's Vegas!
The lunch menu consists of various salads and soups, as well as burgers, sandwiches, and wraps. The Spicy Jalapeno Bacon Burger and the Nashville Chicken Sandwich are among my favorites and I typically go with the Sweet Potato Fries as my side.
The Buffet at Luxor
If you love a good buffet, you're in luck because Luxor's is fantastic. Many of Vegas' buffets closed down for good after the pandemic and only a few throughout the city have reopened and Luxor's is one of them. Offerings include a variety of Italian, Mexican, Asian, and American foods. During brunch there's a made to order omelet station that also has eggs benedicts.
The carving station is always a favorite and features some of the juiciest slow roasted meats. One of the main attractions of the Luxor buffet is their 30 foot salad bar. Don't forget to finish your meal off with a trip or two to the dessert station!
Quick Eats – Drinks – Coffee – Desserts
Need a break from the blackjack table? How about morning coffee or an afternoon snack? If you're looking for something on the go, Luxor has great options that have you covered whatever your need is throughout the day.
Backstage Deli
Open 24 hours a day, Backstage Deli offers guests delicious housemade sandwiches, wraps, and salads. The portions here are huge so keep that in mind when you're ordering.
Although the menu offers burgers, salads, and classic sandwiches as well, the only choice for me are the chef's specialty sandwiches which you can also get as a wrap. My favorite specialty sandwiches are the Jawbreaker (corned beef and pastrami, swiss cheese, stage sauce, coleslaw, and french fries) and the Cubano (roasted pork, carved ham, swiss cheese, pickles, and mustard)
Backstage also has breakfast sandwiches that are perfect for anytime of the day!
Starbucks Cafe
No need to go into a ton of details here. I just wanted to make sure that this guide was comprehensive and I included all the eateries at Luxor which includes Starbucks!
One thing to note is that Luxor has three Starbucks locations. One is on the casino level near the West Tower. The second is also on the casino level across from the concierge near the East Tower. The third Starbucks is on the second floor at the entrance of the food court.
Enjoy everything that Starbucks has to offer!
Blizz
This yogurt stand has a variety of frozen yogurt flavors along with a ton of toppings to add to your cup. They also feature yogurt smoothies that are blended with real fruit, milkshakes, freshly made Belgian Waffles, and sweet Crepes.
Luxor Food Court
A food court is the definition of grabbing something quick and easy to eat. If you're with a group of friends or your family and can't decide or agree on where to go to grab a quick bite, the food court might be the best choice. Here are all the options at the Luxor Food Court.
Johnny Rockets
This All American restaurant offers all the classics like hamburgers, sandwiches, fries, and of course milkshakes and malts.
Bonanno's Pizzeria
There's nothing like the smell of freshly baked pizza coming out of a brick oven! Enjoy New York style pizzas along with a variety of Italian inspired dishes at this pizzeria.
LA Subs
With fresh made sub sandwiches and salads, LA Subs is a great spot for those looking for a healthier option at the food court.
Nathan's Famous Hotdogs
Nothing says grab and go like a Nathan's Famous Hotdog. Add some of their famous Crinkle Fries while you're at it. Nathan's also offers Philly Cheesesteaks, Chicken Sandwiches, and a variety of breakfast selections.
Original Chicken Tender
Original Chicken Tender has some of the best hand battered chicken tenders, along with hand chopped fries, and creamy milkshakes for everyone to enjoy.
Conclusion
The Luxor Las Vegas has a fantastic selection of restaurants and eateries that meets the needs of any diner. Along with the mysterious and exotic stylings and decor inspired by Ancient Egypt, you're sure to enjoy everything this Southern Las Vegas Strip resort has to offer. I hope this guide was helpful and thanks for checking us out here at The Las Vegas Report!