When you're visiting The Strip in Las Vegas, one of the most important decisions you'll have to make is where to eat. With so many amazing restaurants to choose from, it can be tough to decide which ones are worth your time and money. If you want the best views of the city with mouthwatering meals then The Stratosphere should be your top choice.
Before we get started with our list, I'll share a pro tip. Stratosphere Las Vegas has a player's rewards program that offers all kinds of benefits including those for dining if you're a member. Membership is free. You can find more information here at True Rewards.
Restaurants in The Stratosphere
Trying to pick between any of these restaurants will usually take a ton of your time. Figuring out what type of food is in each restaurant and the type of atmosphere it provides can easily be overwhelming. To make it easier, I've broken them all down into easy-to-pick categories that can guide your dining decision.
Dining in the Stratosphere With a Las Vegas View
One of the unique aspects of visiting The Stratosphere in Las Vegas is having an all-encompassing view of the city while you eat. The restaurants below all provide some of the most breathtaking views of the city that you can't find at any other hotel in Las Vegas.
Top of the World
Towering over the city of lights at more than 800 feet in the air is the aptly named Top of the World restaurant in the Stratosphere. Not only will you be impressed by the culinary skills of the professional chefs that work there, but you'll also get to enjoy an unrivaled 360-degree view of the entire city of Las Vegas. The restaurant actually moves while you eat and makes one complete revolution every 80 minutes.
The menu changes every season but it's well-known around the city for its premium seafood and steaks. Fresh oysters, calamari, bone-in filets, lamb chops, and stuffed lobster cioppino are just some of the dishes you can expect to find here.
There is a strict dress code so you can't wear casual clothing like sweatshirts or beachwear.
108 Eats
In order to gain access to the delicious treats from 108 Eats, you'll need to first purchase a pass for the SkyPod. The SkyPod is an observation tower and one of the main attractions of The Stratosphere. Once you purchase your pass, you'll be able to access the 108 Eats restaurant from there and enjoy some delicious food while taking in an incredible view of Las Vegas.
Both the SkyPod and 108 Eats are located on the famous 108th floor of The Stratosphere. The observation deck has just as good of views as its counterpart, Top of the World, but you don't have to spend an arm and leg to dine there. More of a stand than an actual restaurant, 108 Eats offers delicious gourmet paninis, creative ice cream flavors, popcorn, and cookies that taste like they are homemade.
Stratosphere Casual Sit-Down Restaurants
The Stratosphere has one of the most abundant options for casual dining than other restaurants in Las Vegas. Your party will have no problem finding an option that fits what everyone is in the mood for. While it helps to make reservations in advance, most of these options will have plenty of space for walk-ins.
CHĪ Asian Kitchen
Stepping into CHĪ Asian Kitchen immediately transports you into the dark but lively streets of Asia at night. The decor includes neon Chinese characters and street art along with decorative street bikes and festival dragons. No other restaurant in Vegas can give you this kind of atmosphere.
The food here is a mix between Chinese and Japanese cuisine and there are plenty of options to choose from. Try their signature dishes like the Pork Bao Bun, Crab Wonton Dim Sum, and Chicken Karaage. A large selection of beers, wines, sake, and soju litter the menu and there are even some Asian-inspired cocktails.
Closing times change depending on the day and you'll need to make a reservation in advance to ensure a table.
Read our complete review of CHI Asian Kitchen.
McCall's Heartland Grill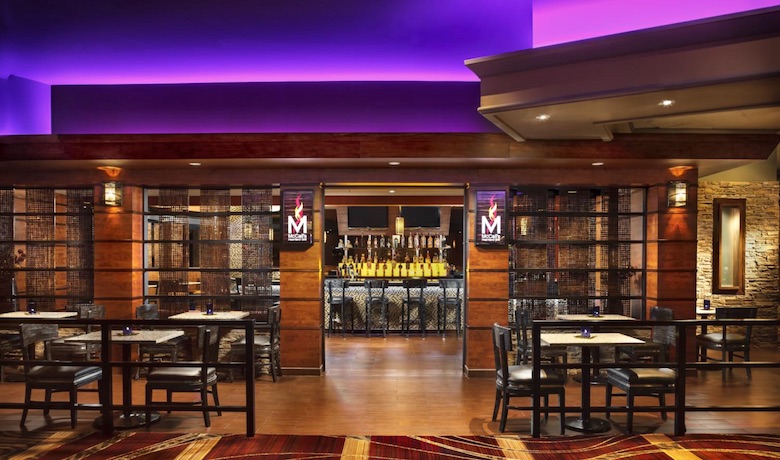 McCall's Heartland Grill is less about the atmosphere and more about the food. The classic American steakhouse does not try and do anything fancy but sticks to what it knows works, and that's steaks, seafood, and pasta.
The signature choice is the McCall's Prime Rib which is aged 28 to 35 days and is 16 pounds of premium quality cut. But, there is no shortage of meat or seafood on this list with choices of ribeye, new york strip, filet mignon, lobster tails, salmon, and ribs. Where the menu really shines is the curated wine list and American whiskey trail bourbons.
It's recommended to make a reservation because seating is limited at the restaurant.
Nunzio's Pizzeria
A classic Italian pizzeria, you get what you'd expect at Nunzio's Pizzeria. Whole pies or slices are available of your favorite pizza choices like pepperoni and cheese but they also have unique toppings like meatballs and ricotta cheese.
Custom pies are also available as well as sandwiches, small snacks, and a cannoli dessert. Alcoholic drinks are limited to frozen cocktails and beer. No reservations are needed to sit down at this casual restaurant and although it can get very busy, the service is typically very quick and friendly.
Strat Cafe
A modern twist on the American Diner, Strat Cafe is conveniently located right off the casino floor. The reason for the easy-to-access location is that it's open in the early hours of the morning. After a full day out in Las Vegas, you still have an option for high-quality meals at the Strat Cafe.
You'll see all the American classics for breakfast like french toast, country fried steak and eggs, and Denver omelets. You can even pair your meal with a bloody mary or mimosa. There's also freshly brewed coffee, fresh squeezed juices, and lunch and dinner options.
PT's Wings and Sports
It's easy to catch the big game on PT's Wings & Sports huge LED wall located right behind the bar. Several other HDTVs decorate the restaurants giving you plenty of options to follow the latest sports news.
Classic sports bar foods fill up the menu like nachos, wings, and pizzas but you'll also find other surprises like Mini Korean Corn Dogs and Flatbread Quesa Birria. Of course, there's no shortage of macro and microbrews available on tap for you to choose from. You can also enjoy flights, growlers, cocktails, and mixed shots.
Elation Pool Cafe and Bar
The large resort-style pool located on the 8th floor of The Stratosphere is one of the best attractions at the hotel. Chaise lounges, background music, and three large spas surround the area. Not to mention the luxurious mountain views from the pool deck.
Located conveniently right next to the pool is The Elation Pool Cafe and Bar. It's an awesome spot to kick back, relax, and enjoy a meal or drink with friends. The dress code here is decidedly relaxed but you'll need to be a guest in order to get service.
The cocktails are the real star of the menu and even come with an option to be frozen. For food, you have options of breakfast burritos, parfaits, carne asada bowls, chicken wings, wraps, burgers, and more. Check with the concierge to make sure the restaurant is open because it closes down during the winter months.
Quick Grab and Go Options at The Stratosphere
With so much to see and do in Las Vegas, you don't always have time to sit down at a nice restaurant for a bite to eat. The options below allow you to get what you need and get back to your Vegas adventures.
Starbucks
There is no mistaking the world's most popular coffee shop. The remodeled Starbucks has plenty of seating available and it offers all the favorite drinks and snacks you're used to at this chain. You don't have to grab a seat though, the grab-and-go coffee shop has small bites you can take with you while seeing the rest of the Strip.
The best part is, this coffee shop is open 24 hours a day. It's one of the few options you can go to when the craving hits at inopportune times.
McDonald's
The international classic fast-food restaurant that started it all, McDonald's, is available at The Stratosphere on the retail level. All the typical menu items are here like big macs, quarter pounders, apple pies, and chicken nuggets. Although there are some seating options available, you can quickly grab a bite and run if you're low on time.
Breakfast, lunch, and dinner are all available at this location which is perfect because the restaurant is open 24 hours a day. So, no matter if you are coming home late from a wild Vegas night or waking up early to hit the town, you can always grab something at McDonald's.
Fat Tuesday
Taken from the name of the popular New Orleans holiday that celebrates Mardi Gras, Fat Tuesday is known as the king of frozen daiquiris. The bar and grill is located on the retail level at The bold, fun, and lively decor makes it a popular spot to hang out, but you can always grab a cup and go if you're in a hurry.
To pair with your frozen daiquiris, the restaurant cooks up fire-baked pizzas with all-natural ingredients. Grab yourself a slice and wash it down with one of the daiquiris while strolling around the Las Vegas strip.
Eating at The Stratosphere in Las Vegas
Don't let the abundant options at The Stratosphere make you feel overwhelmed. With the guide above, you'll have a quick and easy way to choose your favorite spots for sit-down or on-the-go restaurants. I hope this guide will help you save time and make quick decisions. Thank you for reading and visiting The Las Vegas Report!