Made to look like a castle straight out of Europe, the Excalibur offers the entire family incredible dining experiences you can't get anywhere else. Nowhere on the strip will you find family-friendly options quite as good as you would at Excalibur. Casual sit-down restaurants, entertaining service, and quick grab-and-go options are all available.
Before we get started with our list, I'll share a pro tip. The Excalibur is a part of MGM Resorts, so if you're an MGM Rewards member, you can earn points for dining. Membership is free. You can even pay for your meal or part of it if you have enough points. You can find more information here at MGM Resorts – MGM Rewards.
Restaurants in the Excalibur
Picking a restaurant in the Excalibur can quickly get overwhelming when you're thinking about location, menus, time of day, and kid's options. That's not even including what everyone is in the mood for. To make things easier on you, I've broken all your options down in easy-to-understand categories based on the features and offerings of each restaurant.
Casual Sit-Down Restaurants
The Excalibur was mainly built to host families and as a result, it has many casual restaurants and eateries that appeal to just about anyone. Even though you won't find any fine dining, there are a couple of options where the food is elevated enough to make it feel special. Call ahead to make sure there is space for your family or group.
Baja Fresh
Located next to the table games in the Excalibur casino, Baja Fresh is true to its name and offers fresh ingredients cooked in a Mexican style. You'll find all the classics like fajitas, burritos, tacos, nachos, and even Mexican salads. The Chicken Baja Bowl is one of the best items on the menu but you can't go wrong with the Quesadilla or Fajitas.
All menu items can easily be changed upon request and you can make your order for dine-in or to go. You can even call in your order ahead of time or order online so it's just the way you want it.
Buca di Beppo
Bring the entire family along for a traditional Italian experience at Buca di Beppo. Serving classics like pasta, salads, and pizzas, Buca di Beppo makes your dining experience authentic by adding lively Italian music and serving portions as big as Italy. Dishes generally feed two to six people so you don't want to order one entree for every person at your party.
The World Famous Meatballs, Pizza con Formaggio, and Lasagna are some of the favorites at the restaurant. There are several dining rooms available but it still won't hurt to call in ahead of time to check for availability. Buca is casual but it is still the nicest restaurant in the hotel.
Drenched Bar & Grill
The Excalibur has a large and inviting pool that visitors flock to during the hot and dry Las Vegas summers. Sitting poolside is the convenient and delicious Drenched Bar & Grill. If you want to grab a bite to eat while taking in the desert heat, Drenched serves classic American food like hamburgers and pizza.
You'll need to call the concierge ahead of time to check if the restaurant is open because the restaurant closes during the winter. All you'll need is a shirt and shoes for service.
Johnny Rockets
The classic diner model gets a modern twist at the casual eatery Johnny Rockets. Resting right behind the table games in the casino, Johnny Rockets is a perfect place to take the kids because of the quirky decor and friendly atmosphere.
You'll get all the American diner classics like burgers, shakes, fries, and tater tots. The restaurant even serves breakfast all day so you can pick up your waffles, pancakes, or Krispy Kreme Donuts anytime. All hamburger meats are fresh, never frozen, and all-natural.
The Buffet at Excalibur
The most visited casual sit-down restaurant in Excalibur is The Buffet. It's easy to see why too with all styles and types of food available from cuisines from all around the world. You'll access the restaurant by heading up the escalators up the Castle Walk Level and heading towards the food court.
You can eat as much as you can and the buffet switches what items are offered depending on the time of day. They even offer a weekend brunch every Saturday and Sunday with made to order crepes and omelet stations!
Dining With Entertainment in Excalibur
If you're looking for a way to keep the kids entertained just as much as you are looking to get a bite to eat, the TAP Sports Bar at Excalibur and Dick's Last Resort are both great options. You'll get down-home American food combined with live music, sports, and entertaining service.
TAP Sports Bar at Excalibur
When you crave more from your dining experience than a meal, the TAP Sports Bar has you covered. You'll see large high-definition TVs on every wall with live sports games or sports news playing all day long. You can also hear anything from classic rock to alternative music playing in the background.
TAP Sports Bar is a perfect place to grab all your favorite stadium and bar food and drinks. Some of the menu highlights include Loaded Nachos, Nashville Hot Chicken Sandwich, NY Strip Steak, and the Homemade Chocolate Chip Ice Cream Sandwich. They also have plenty of draft beers that include some from Las Vegas' local breweries.
Dick's Last Resort
There are entertaining restaurants and then there is Dick's Last Resort. The unique atmosphere at Dick's restaurant is filled with intentionally sarcastic servers and live bands. All guests who step inside the restaurant are given a party hat to get in the mood so be warned!
The seemingly endless menu includes classic American dishes such as steaks, burgers, wings, appetizers, and fried food. The atmosphere is very casual and you should call ahead of time to check availability.
On The Go Quick Eats and Drinks
You'll be doing a lot of walking in Vegas and sometimes it's easier just to grab something quick you can finish while on the go. I know children can be full one second and starving the next so the options below give you a chance to satisfy their craving without having to worry about reservations or waiting in line for a table.
The Roasted Bean
Your daily caffeine fix while staying at the Excalibur can be had at The Roasted Bean. This coffeehouse has all the classic espresso drinks like cappuccinos and lattes, as well as hot chocolates, mochas, and iced coffee drinks. You can also find breakfast sandwiches, lunch sandwiches, salads, and baked goods if you're looking for something quick.
Orange Julius/Dairy Queen
Located in what is called the Fun Dungeon, Orange Julius and Dairy Queen partner up to serve tasty ice cream treats right alongside smoothies and fruit drinks. Your favorite Blizzard flavors are here along with the classic Sundae.
Excalibur Food Court Options
Where most people spend their time while staying at the Excalibur is the food court. With so many options from Auntie Anne's to Big Chill and Cinnabon to Einstein Bros Bagels, you won't have any trouble finding something that pleases the entire family. You won't have to worry about wait times or reservations either. Simply place your order and pick up your food when it's ready.
Auntie Anne's Pretzels
Auntie Anne's Pretzels is a classic snack food stand located in the center of the food court. Here you'll find an assortment of pretzels and other delicious snacks. Choose from traditional flavors like plain, almond, cinnamon sugar, garlic cheese, and more. They also have specialty pretzel items such as pepperoni rolls, nuggets, and stix.
Big Chill
When the temperatures heat up in Vegas there is no better place to cool off than the Big Chill. Offering frozen drinks and even cocktails, the Big Chill has something for everyone. Just check with the concierge to make sure they are open because it'll close down during the winter months.
Cinnabon
The classic cinnamon roll stand is a great spot to grab something sweet during your stay. The smell of freshly baked cinnamon rolls will draw you in and the taste will keep you coming back for more. Choose from classic cinnamon rolls or go for something different like the Caramel Pecanbon or the Mochalatta Chill. They also have coffee, churros, and other delicious treats.
Einstein Bros Bagels
I have to admit I'm addicted to the Lox and Bagel from Einstein and no other bagel place does it better. With loads of different bagels and cream cheese options, you can't go wrong. And the coffees are pretty good too. Don't forget about the breakfast sandwiches, salads, and wraps if you're looking for something a little more substantial.
Fatburger
Fatburger claims it's the last great hamburger stand and it's hard to argue with them. Hand-pressed hamburger patties with crispy fries and thick milkshakes are all available at the American burger joint. The Oreo Cookies & Ice Cream Milkshake is my favorite when walking along the strip in the summer.
Hot Dog on a Stick
Hailing from the West Coast, Hot Dog on a Stick offers up a unique take on the classic American hot dog by putting it on a stick. More of a corn dog than anything else, this massive treat is perfect for kids and parents alike. The real treat is their Stomped Lemonade and Funnel Cake Sticks.
Krispy Kreme
You've never truly had a donut until you try one from Krispy Kreme. With an array of flavors and combinations, you can get almost anything but the Signature Glazed Donut is a favorite of mine. The coffee isn't bad either if you want a quick pick-me-up.
Pick Up Stix
If you have a craving for Asian food then Pick Up Stix is going to be your only choice in Excalibur. It has all types of Asian food from Thai to Sushi and they cater to food sensitivities as well like gluten-free.
Pizza Hut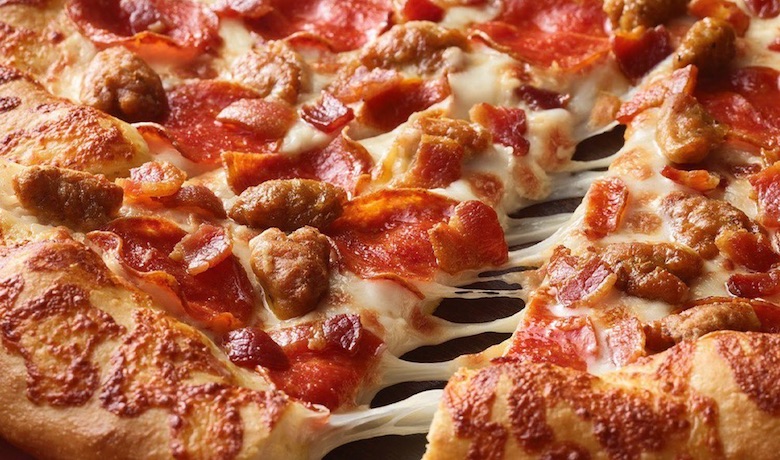 The classic American chain offers pizzas, breadsticks, and other appetizers to visitors at Excalibur. They specialize in pizza but also have other classic favorites like chicken wings, pasta, and even a few salads.
Popeyes Louisiana Kitchen
Southern fried chicken is the staple at Popeyes Louisiana Kitchen and its crispy and delicious batter offers something different from other restaurants. Choose from mild to spicy for a flavor that will satisfy your cravings. You'll also have options for sandwiches, fries, biscuits, and other southern sides.
Schlotzsky's
You won't find another Schlotzsky's on the entire strip so take advantage while you can. Classic sub sandwiches and soups are available and the buns are always fresh. Get the Classic with the Original Dressing or try something new like a Veggie, Italian Salami, or Turkey.
Starbucks
There are actually two separate Starbucks locations inside Excalibur: one in the Rotunda and the other in the Castle Walk. Both serve up your favorite drip coffee, lattes, cappuccinos, and more. Small grab-and-go snacks are available as well.
Eating In The Excalibur
With the facade of a medieval castle, Excalibur has plenty of casual sit-down restaurants the entire family will enjoy. From Italian to American, parents and kids alike can find something they love. You can even grab a quick bite at one of the restaurants in the food court. I hope this guide was very helpful and thank you for visiting The Las Vegas Report!