Harrah's Las Vegas Hotel and Casino is located in the northern central section of the Las Vegas Strip and is home to some of the best entertainment in town. On top of the daily and weekly shows put on by these amazing performers, Harrah's presents some heavy hitters from the food industry as well. Food Network and TLC stars invade this Mardi Gras themed resort as the celebrity chef restaurants are a huge hit for both locals and tourists alike. Let's take a closer look at all the restaurants this resort has to offer.
Before we get started with our list, I'll share a pro-tip. Harrah's Las Vegas is a part of Caesars Entertainment, so if you're a Caesars Rewards member, you can earn points for dining. Membership is free. You can even pay for your meal or part of it if you have enough points. You can find more information here at Caesars Rewards.
Restaurants in Harrah's
Trying to decide where to eat can be a difficult choice especially when there are various factors that can influence your decision. I've broken down each of Harrah's restaurants into different categories based on the most prominent features and offerings to try and make the decision more straightforward and easier for you.
Fine Dining Restaurants in Harrah's
If you're looking for a fine dining experience on the Las Vegas Strip but don't want to break the bank, these choices at Harrah's Las Vegas are perfect. Good food at good prices, along with friendly service, and a vibrant atmosphere means you'll be happy and satisfied regardless of whether you choose Ramsay's Kitchen or Ruth's Chris.
Ramsay's Kitchen by Gordon Ramsay
Michelin-starred Chef Gordon Ramsay is a huge name in the food industry. With several restaurants already well established in the Las Vegas area, it's great to see him continue to open quality restaurants for everyone to enjoy.
Drawing from Chef Ramsay's extensive culinary experiences from all over the world, he brings approachable sophistication to each dish on the menu. If you've dined at other Gordon Ramsay restaurants before, you'll notice the menu has his signature classics such as the Beef Wellington with Potato Puree, Pan Seared Scallops with House-Cured Pork Belly, and Crispy Skin Salmon with Cauliflower Puree.
Fresh seafood options fill in the rest of the menu with offerings such as Jumbo Lump Crab Cake, Tuna Tartare, Oysters on the Half Shell, and the famous Seafood Tower, a must have for the table.
A well thought out offering of soups, salads, sides, and steaks round out the menu at Ramsay's Kitchen. By the way, the Sticky Toffee Pudding is to die for. You must get this dessert!
Ruth's Chris Steak House Las Vegas
Having been established more than 50 years ago in New Orleans by founder Ruth Fertel, Ruth's Chris Las Vegas brings the spirit, flair, and elegance of Louisiana to this Harrah's restaurant. Located on the second floor of Harrah's, this restaurant's dining space boasts floor to ceiling windows that provide diners with a panoramic view of the Las Vegas Strip including the beautiful Caesars Palace and The Forum Shops. A sight to see, particularly at night.
The menu features a wide selection of USDA Prime steaks but special attention should be given to their specialty cuts that include a Bone In New York Strip and a Tomahawk Ribeye. Chefs prepare your steak in an 1,800 degree oven which sears in all the juices and flavor. It's then served on a 500 degree plate as is tradition set by founder Ruth Fertel with the intent to ensure the steak stays hot and delicious from the first to last bite.
Although primarily known as a steakhouse, Ruth's Chris also adds the one-two combo of seafood to their menu. Market fresh seafood options include Seared Ahi Tuna, Barbecued Shrimp, and Mushrooms Stuffed with Crabmeat for appetizer choices. Seafood entree selections include Sizzling Crab Cakes, Chilean Sea Bass, and Salmon.
A variety of salads, soups, enhancements, and sides perfectly compliment your entree of choice.
Harrah's Las Vegas Options for Casual Sit Down Dining
Here's where the celebrity chefs really bring some wow to a casual dining experience. With flavors and concepts that are simple, creative, and bursting with flavor, the casual sit down restaurants might be my favorite at Harrah's Las Vegas.
Pizza Cake by Buddy V.
Buddy Valastro is best known as the star of the reality TV series Cake Boss, which mostly takes place at his Hoboken, New Jersey bakery called Carlo's. With several restaurants, shops, and even cake vending machines throughout the Las Vegas area, Buddy brings his passion and talent for pizza to Harrah's Las Vegas.
This New York style pizzeria serves up freshly made pizzas and desserts in a self described "fast-casual concept". What does that mean? It means they make you fresh and hot New York-style pizzas quickly and are nice about it!
The pizza is well balanced in flavor and texture. With a crispy crust and quality ingredients, it's truly the perfect slice.
The decor is that of a classic New York pizzeria but with Buddy's added touches of course. A giant 6 foot tall, six layer, rainbow-colored vanilla cake structure pays homage to Buddy and much of the work he has done over the years creating specialty cakes as seen on Cake Boss.
Outside seating provides diners with a view of the Strip. If grab n' go is more your style, that's okay too. Grab a slice of pizza. Grab a slice of cake. Heck, grab one of each! It'll be worth it.
Walk On's Sports Bistreaux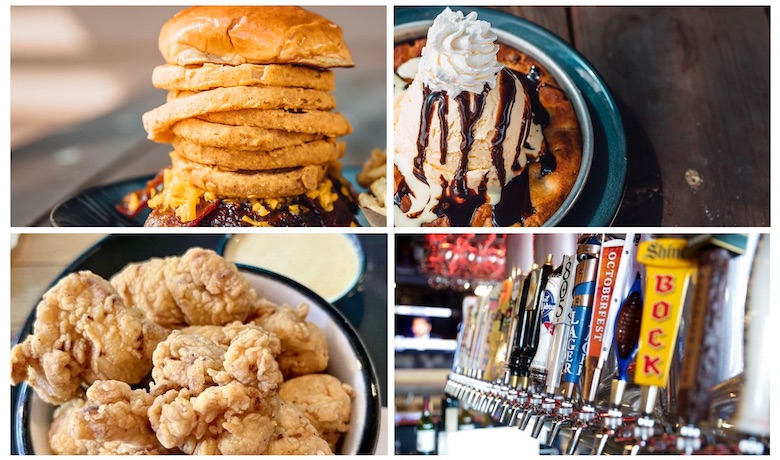 If you are looking for a sports dining experience then you're in luck. Brandon Landry, a former walk-on basketball player at LSU is the founder of this Baton Rouge based restaurant franchise. The Walk On's at Harrah's Las Vegas is filled with more than 60 TVs throughout the restaurant so you won't miss a second of the action.
The Louisiana inspired menu features made from scratch dishes that include Duck & Andouille Gumbo, Crawfish Etouffee, and Krispy Kreme Donut Bread Pudding.
The menu is loaded with shareable starters, salads, sandwiches, and sides. The Boom Boom Shrimp Po Boy Sandwich is amazing and you should definitely try a side of Corn Grits and Hush Puppies.
A wide selection of various seafood and chicken entrees along with burgers round out the main menu. Walk On's is open for breakfast and the menu includes a variety of egg dishes, biscuits and gravy, breakfast meats, and items from the griddle like pancakes and French toast.
Bobby's Burgers by Bobby Flay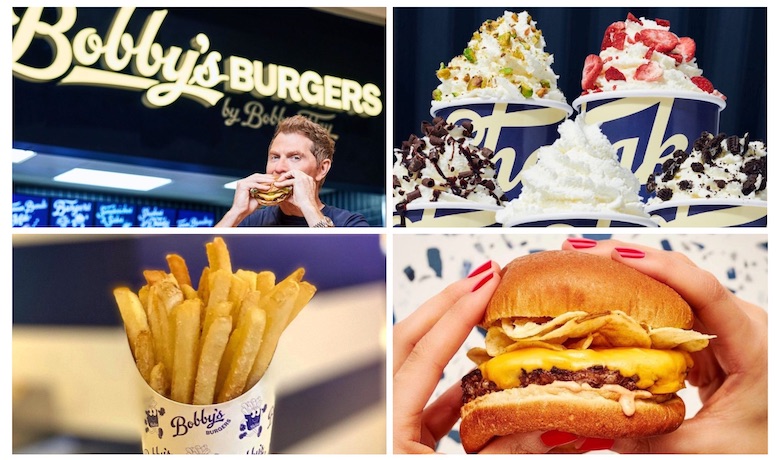 The Food Network's golden boy, Bobby Flay brings his version of the hamburger, fries, and shake combo to the Las Vegas Strip. Having several restaurants all throughout Las Vegas, it's no surprise to see Bobby Flay's name on another restaurant.
Some of the menu highlights include the Crunchburger (topped with potato chips and Bobby's sauce), Bobby Blue and Bacon Burger (my personal favorite), Nacho Burger (queso, pickled jalapenos, blue corn tortilla chips, and tomato chipotle salsa), and the BBQ Smokehouse Burger (bacon, buttermilk onion ring, chipotle BBQ sauce, and American cheese).
I suggest adding a side of Bacon and Cheese Fries or Sweet Potato Fries to your burger and don't forget about the shakes. The Pistachio is my go to every time I stop by Bobby's Burgers.
If you get to Bobby's between 7:00 AM and 11:00 AM, they serve breakfast sandwiches, breakfast burgers, and breakfast burritos. If you're looking for something a bit lighter, there's a Greek Yogurt Parfait and Oatmeal on the menu as well.
Quick Eats – Drinks – Coffee – Desserts
Don't want to sit and be waited on? Just want to grab something on the go? This section is all about that. If you're looking for breakfast, coffee, a small snack, or dessert these spots at Harrah's are perfect for you.
Starbucks
I'm not going to go into all the details about Starbucks. I just wanted to add it so you knew that there was one at Harrah's Las Vegas. It's located on the main level near the Piano and Lobby Bars. Enjoy everything Starbucks has to offer!
Ben & Jerry's
If you're looking for a sweet treat to keep you cool on hot Las Vegas days or perhaps a little something as an after dinner treat, head up the escalator to the second floor where you'll find Ben & Jerry's. With more than 25 different ice cream flavors, frozen yogurt, and sorbets you're bound to find something to satisfy that craving.
Fulton Street Food Hall
The Fulton Street Food Hall is a marketplace that is full of amazing food selections that are prepared fresh daily by the chef team. You can create your own salads, build a personalized pizza, or even grab some sushi or ramen noodles if you feel like having some Japanese food.
Feel like breakfast foods? No problem, they've got it. There's also a 24 hour coffee station to help keep you going all day and all night.
Conclusion:
Harrah's Las Vegas has an amazing selection of restaurants and eateries that's perfect for any occasion and need. The celebrity chef restaurants are a must when stopping in at this Mardi Gras themed resort. I hope this guide was helpful and thanks for checking us out here at The Las Vegas Report!