Wynn Las Vegas and Encore are technically two separate, five-star properties in Las Vegas, but the two share a singular resort setting. What does this mean for you? No matter which you stay at, you get access to the hotels' joint amenities — including all the amazing restaurants. Just as you'd expect from such a luxurious property, Wynn and Encore Las Vegas offer some seriously fantastic dining options. Here's everything you need to know.
However, before you get started with our list, here's a pro tip. The Wynn and Encore Las Vegas has a player's rewards program that offers all kinds of benefits including those for dining if you're a member. Membership is free. You can find more information here at Wynn Rewards.
Restaurants in the Wynn and Encore Las Vegas
As you can see, you have a lot of dining options to pick from at the Wynn and Encore Las Vegas, potentially more than you could even try during a single stay. So how do you ensure you only visit the best restaurants for your style and cuisine preferences during your trip?
To help you make the best dining decisions possible, we're narrowing down these 20 restaurants into three categories:
Fine and Upscale Dining at Wynn and Encore Las Vegas
Whether you're looking to celebrate a special occasion or life milestone, or you just want to treat yourself, here's where to go while at the Wynn or Encore.
Casa Playa
This restaurant gives Mexican cuisine an upscale upgrade.
One of Encore's newest restaurants, Casa Playa takes your taste buds on a tour of Mexico's regional cuisines, with a somewhat shorter, small dinner menu that offers a handful of appetizers, seafood and other entrees, shared plates, and desserts. From Whole Roasted Carnitas to Mexican Blue Shrimp Ceviche, this is not your neighborhood Mexican spot.
While you won't see any white tablecloths here, you will need to dress in "casual chic" wear and make a reservation, and you can't bring the smallest kiddos in the fam; children under 5 are not allowed.
Read our complete review of Casa Playa Restaurant.
Cipriani
Cipriani is a well-known Italian fine dining culinary brand with outposts in Venice, New York City, Ibiza, and other travel hot spots, and the Las Vegas restaurant is the brand's very first location on the West Coast.
The menu offers both lunch and dinner, with many Italian favorites and classics. Think veal piccatine, eggplant parm, or house-made ravioli. Make sure to snag a famous bellini from the bar, no matter what you order.
Also make sure to wear your business casual best and make a reservation for this 5-years-old-and-up eatery.
Delilah
A supper club that finds its inspiration in the Golden Age of Hollywood, Delilah demands a strict dress code, no children under 12 during the day, and no children at all after 7 p.m. However, despite (or perhaps because of) the more rigid expectations, you won't regret making reservations at this American fine dining spot that offers up an atmosphere that's just as delicious as the menu.
The main dinner menu features steakhouse-style options including obviously steak, seafood, and some salads. A few vegan options and gluten-free options are also available, so no one feels left out.
A late-night menu switches over to more casual fare, with options like tacos, sliders, and fries.
Mizumi and Mizumi Teppanyaki
Mizumi offers award-winning Japanese cuisine in a spectacular setting. The expansive restaurant includes its own Japanese gardens, a koi pond, and a waterfall (you can actually reserve and request a table that sits on the water, beneath the waterfall).
In addition to the main dining room, there's also Mizumi Teppanyaki within the broader restaurant, offering table-side Teppanyaki displays.
If you're not into Teppanyaki, though (it's admittedly not an experience for everyone, especially if you want a more quiet, intimate dining experience), stick to the main restaurant and its menu that features sashimi, sushi, tempura, and other eats.
Lakeside
This restaurant is literally lakeside, next to the resort's Lake of Dreams. Given the water views, Lakeside's menu focuses on seafood and the restaurant claims that its offerings are all sustainably sourced, for seafood you can feel good about.
Featured menu items include The Shellfish Plateau, with its Maine lobster tail, shrimp cocktail, oysters, and King crab legs, and the Maine Lobster Bake, with its King crab, shrimp, pancetta, roasted fennel, and potatoes.
Whatever you order, make sure to wear your resort elegant attire and do your best to snag an outdoor table. You can request one when making your reservation, but they're not guaranteed.
Read our complete review of Lakeside Restaurant.
Tableau
Looking for an upscale brunch? You've found it. Tableau is an upscale brunch-only restaurant that overlooks a pool and sits within the Wynn Tower Suites lobby.
Since the restaurant is brunch-only, the dress code is a little more casual than what you might find at some of the other restaurants on our list. However, you may still want to make a reservation.
The menu offers a wide selection of standard breakfast and brunch fare. Breakfast-leaning options include waffles and pancakes, scrambles and benedicts. The lunch-leaning options are on the lighter, more casual side, with sandwiches, salads, and pasta.
SW Steakhouse
Another restaurant near Wynn's Lake of Dreams, SW Steakhouse is as classic a steakhouse as you can get.
While this restaurant firmly sits in the fine dining camp, you won't necessarily need to dress like it; business casual wear is fine, but still grab that reservation and leave the kids under five at home.
The award-winning menu receives rave reviews for its high-end steak options, accompanied by an admirable wine list. Expect Wagyu and a few seafood entrees, plus standard steakhouse sides (potatoes, spinach, et cetera). A few vegan options are available, too.
Sinatra
This restaurant gets its theme from Frank himself, and it's not shy about it. You'll see Sinatra's touch everywhere, starting with the restaurant's name. The old-school vibes are plentiful, making you think you've been whisked away to some long-ago fine eatery from the 1940s or 50s.
The menu, though, has a modern touch, even with its heavy focus on Italian classics. The restaurant provides not just an additional vegan menu, but also an additional "Living Well" menu, with items designed to help you avoid some of the heavier Italian eats that you may just regret come morning.
Wing Lei
Last up in our selection of fine dining and upscale restaurants at Wynn and Encore, Wing Lei stands apart as the first Chinese restaurant on the entire North American continent to receive a Michelin star.
The gorgeous traditional setting is only the first treat you'll experience at Wing Lei. After you take in the environment, you can take in the menu, with its offerings that range from Imperial Peking Duck to Truffle Soup Dumplings.
For the ultimate experience, order Chef Ming's Signature Dinner, a prix fixe meal that's required for the entire table and comes at a set, per-person menu price, but that really shows off why this restaurant garnered that coveted Michelin star.
Read our complete review of Wing Lei Restaurant.
Casual Dining at Wynn and Encore Las Vegas
But what if you're not into dress codes or age restrictions, upscale menus or complicated place settings? Well, don't worry. You've got plenty of other options at these two properties, with a handful of casual restaurants stretched across the resort.
Allegro
There are several Italian fine-dining restaurants at Wynn and Encore Las Vegas, but if it's pizza you're after, head to Allegro. With the restaurant's casual vibe, TVs at the bar, and a separate weekend brunch menu, you'll feel comfortable and relaxed here.
In addition to the pizza, the menu also includes a fair number of pasta options. Can't-miss classics on the menu include the Rigatoni & Meatballs, Baked Lasagna Napoletana, Veal Chop Parmigiana, and Risotto Pescatora.
The Buffet at Wynn Las Vegas
Vegas buffets have a reputation as not-your-average buffet and that's definitely the case here.
The redesigned buffet dining room is light, airy, and comfortable, while the buffet itself offers all-you-can-eat options that are available to walk-in guests. The food options are substantial, so you may want to make a return visit if you want to try everything.
There are more than a dozen different food stations throughout the buffet, serving everything from breakfast eats to sushi, international fare and beyond, for nearly 100 different possible items to eat.
Charlie's Sports Bar
Whether you want to catch your favorite team's upcoming game or just enjoy classic bar food and a beer, Charlie's Sports Bar has you covered. Situated in the Wynn's Race & Sports Book, the restaurant offers all your expected classics, as well as a few indulgences that might be just the thing to soak up an extra drink or two.
Think nachos and chili cheese fries, onion rings and burgers. Signature menu items include a Game Day Dog covered in provolone, cherry pepper mustard, potato straws, peppers and onions, and sauerkraut, and the Detroit Style Pizza.
Jardin
For something both fresh and refreshing, visit Jardin, a brunch and dinner spot with seasonal food served in a casual setting that's still beautiful despite the casual vibe. The conservatory-set restaurant overlooks a pool.
The menu focuses on light and healthy cuisine, with a nice selection of house-made juices and smoothies. Not feeling the healthy thing? Don't worry. The menu also offers a few less-healthy items (a cheeseburger, anyone?), so everyone in your traveling party will be happy.
Red 8
If your interest was piqued by the Asian cuisine options featured in the fine dining section of this list, but you want something maybe a little more affordable or casual, don't despair. Red 8 has you covered with its Cantonese noodles, dim sum, and Hong Kong barbecue. The stylish restaurant provides an expansive menu and lots of vegan and vegetarian options, too.
Wazuzu
Another casual Asian eatery, Wazuzu is a sushi bar with Asian fusion cuisine, taking inspiration from cultures all across the continent. Despite the casual setting, the restaurant is still very stylish and you'll find yourself immediately taken in by the huge crystal dragon on the wall. As for the menu, the most famous specialty is arguably the restaurant's Drunken Noodles, but you'll have a wealth of options to pick from, given the large menu.
La Cave
Last up on the more casual restaurants that you'll find at Wynn and Encore, La Cave is a suitable pick for a date night or special occasion when you want to celebrate, but you still don't want to dress up or break your budget just yet.
An American eatery with a wine bar, La Cave offers a romantic garden setting on the patio, with a cellar-inspired setting inside. The menu is quite varied, so everyone should be able to find something they love, whether they're craving a salad, steak, seafood, or anything in between.
Cafes at Wynn and Encore Las Vegas
Just need a coffee or other pick-me-up? Craving a pastry? Just want a quiet spot to sit and enjoy a bite in the morning (or late at night)? Stop by one of these cafes.
Caffe Al Teatro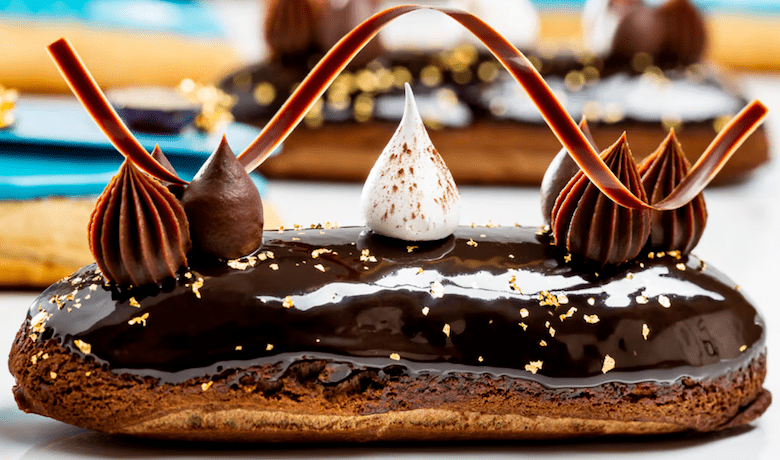 This European-style cafe is open 24/7/365, so you can get your sugar fix and/or your coffee fix at any hour. You can even order take-out or online before you go to the cafe.
Make sure that you come hungry. Even if you just stop by intending to get a coffee or other beverage (you can find spiked and alcohol cafe-inspired drinks on the menu, too), you'll be sucked in by the beautiful pastries and other baked items, from croissants to cinnamon rolls.
Espresso
As the name suggests, Espresso offers your coffee favorites, but it also provides light lunch and breakfast eats. Ultra-quick and casual, the cafe will even package up your order to go, whether you're just taking it somewhere else in the resort or headed to the Las Vegas airport. The menu includes breakfast bowls, pastries, sandwiches, salads, and soups.
Terrace Pointe Cafe
A little more of an upscale cafe, Terrace Pointe — serving breakfast, brunch, and lunch — still remains casual, while also making sure each visitor feels special. With indoor and outdoor dining, and a spot near a pool, the restaurant feels homey and inviting. As for the menu, expect light and healthful options, alongside more indulgent breakfast favorites.
Urth Caffe
Situated in the Wynn Plaza Shops, Urth Caffe is focused on organic, healthful cafe options, serving breakfast, lunch, and dinner, alongside baked goods. Try the Urth Parfait for breakfast, featuring house-made granola, or the Urth Acai Bowl, featuring the house-made cereal. However, not everything is healthy here; you can treat yourself with one of the cafe's famed cheesecakes or pies.
Conclusion
The Wynn and Encore Las Vegas hotels offer so many different dining options and, without a single less-than-stellar option among them, you're sure to have a great experience no matter which restaurants you choose to dine at during your stay.
If you appreciate this guide's breakdown of all your dining options at Wynn and Encore Las Vegas, be sure to check out The Las Vegas Report's other resort dining guides!