Finding food options is easy in Las Vegas, there are restaurants and eateries everywhere! If you're visiting the Park MGM Hotel & Casino, there are plenty of options here that will satisfy all your cravings. From steakhouses to Korean/American fusion and an Italian themed food court, this list covers all the options at Park MGM. Let's take a closer look at each eatery this Hotel and Casino has to offer!
Before we get started with our list, I'll share a pro-tip. The Park MGM Hotel and Casino in Las Vegas is a part of MGM Resorts, so if you're an MGM Rewards member, you can earn points for dining. Membership is free. You can even pay for your meal or part of it if you have enough points. You can find more information here at MGM Resorts – MGM Rewards.
Restaurants in the Park MGM:
There are many factors to consider when choosing a place to eat at the Park MGM. To make things a little easier for you, I've grouped restaurants based on what type of eatery they are.
Fine Dining and Upscale Restaurants in Park MGM
Bavette's Steakhouse & Bar, NoMad Library, and Toscana Ristorante & Bar all provide guests with a luxurious fine dining experience, complete with delicious foods and a beautiful interior. The atmosphere in these places is absolutely buzzing, and to avoid missing out on your trip, you'll want to make sure to reserve a table well in advance of your visit.
Bavette's Steakhouse & Bar
Bavette's is an up-scale steakhouse and bar, with a stunning old-timey atmosphere, reminiscent of a traditional yet expensive speakeasy parlor. With velvet booths, leather-backed chairs, and eclectic lamps adorning the tables, this gorgeous restaurant is a top choice for the classy customer and provides excellent service to all their guests.
As a steakhouse, they're known for their fine array of steaks, ranging from around $50 to $100 but are especially well known for their Petite Duchess Cut Filet Mignon, melt-in-the-mouth Steak Tartare, and Charred Brussel Sprouts. They also serve a selection of hors d'oeuvres, salads, sandwiches, and entrees.
At the bar, you can grab a cocktail or beer, and they have a wide selection of whiskey, as well as bourbon and scotch – so if you're a lover of any of these, this is for sure the place to go.
Bavette's doesn't require a reservation – though as with anywhere in Vegas; if you don't want to miss out, it's always better to book.
NoMad Library
Inspired by the famous library of NoMad New York, NoMad Library is a stunning fine dining restaurant in Las Vegas that combines luxury with timeless food classics. Offering guests a high-end dining experience in an absolutely stunning venue – with walls adorned with bookcases, grand chandeliers, and crimson furnishings, NoMad Library is a restaurant like no other.
There are a variety of well-loved and timeless flavors on the menu, influenced by American classics and here you can dine from communal courses, dishes for two, or you can choose from a selection of pasta and salads. The menu is notable for its exquisite selection of seafood, including Fruits De Mar (a grand platter of raw seafood especially selected by the chef), Hot and Cold Oysters (chilled with Cucumber "Snow" and served "Rockefeller" Style), as well as traditional classic flavors such as the NoMad Roast Chicken.
Toscana Ristorante & Bar
Toscana Ristorante & Bar at Park MGM is a fancier restaurant that is situated within the Eataly Marketplace. With a dark and modern interior, inspired by that of the Toscana region, this restaurant brings a touch of modern Italy to the Las Vegas Strip.
The dining experience combines authentic regional cuisine, cocktails, and iconic Italian wines. Some of their most highly recommended dishes include the Risotto al Tartufo, Filetto al Tartufo, and their famous Fiorentina Steak.
They also have a wide variety of specialty cocktails available, and an extensive wine list to choose from. Be sure to ask a member of the waiting staff for the best wine pairing for your dish!
Park MGM's Quick Bites and Casual Eateries
Fine dining isn't for everyone and there's plenty of times when I've preferred to grab a quick bite to eat at the cafe before heading out. If you tend to pack your Vegas itinerary pretty tightly, it's often easier to choose a few casual eateries along with those fancier dining options! You can't go wrong with a stop at any of the options below at Park MGM.
Best Friend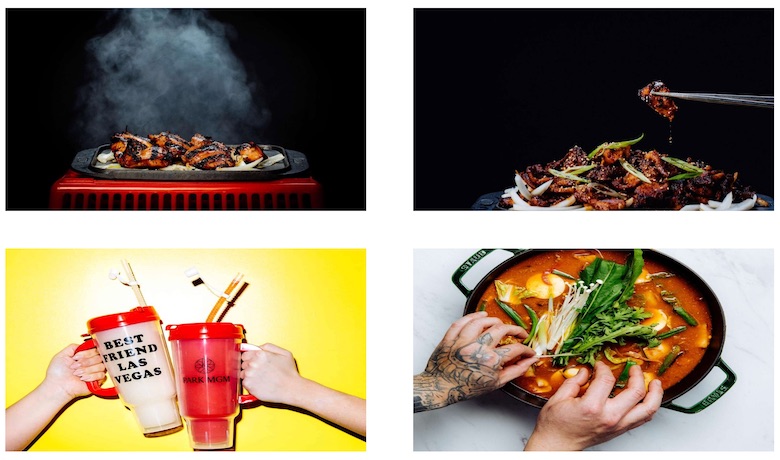 Best Friend is a Korean-American fusion restaurant that brings a wide variety of authentic regional flavors from South Korea and transforms them into dishes tailored to a western palette.
Celebrity chef Roy Choi brings authentic Los Angeles Koreatown flavors to this popular Las Vegas Strip restaurant. Best Friend is a huge hit among locals and tourists alike.
Beyond the large selection of authentic Korean BBQ options, rice dishes, noodle bowls, and alcohol, you'll also find LA and Las Vegas classics with a Korean twist such as K-BBQ Short Rib Tacos and Buttermilk Fried Chicken.
Menu highlights include the Chego Pork Belly Bowl, Spicy Pork BBQ, and the Slippery Shrimp. They also offer a variety of desserts and drinks!
Read our complete review of Best Friend Restaurant.
Primrose
By far the best spot for brunch at Park MGM, Primrose offers all-you-can-drink sparkling rosé and brunch every day until 2 pm. Here you can choose from a wide variety of brunch favorites, as well as cocktails or coffee if wine isn't your thing. Menu highlights include one of my all-time favorites – Eggs Benedict, a delicious Mediterranean Plate, and the mouth-watering The Park Burger.
They also have plenty of non-savory options on the menu for anyone looking for a sweet breakfast treat. The Granola & Greek Yogurt and Brioche French Toast are amazing!
La La Noodle
La La Noodle is delicious Pan-Asian cuisine in a casual yet modern restaurant at Park MGM. With a gorgeous industrial modern interior and an open kitchen, this Asian restaurant is reminiscent of a traditional Japanese noodle bar, with a modern twist. With a variety of delicious Asian dishes and Boba drinks now available on the menu, this casual dining restaurant sets itself apart from the rest.
La La Noodle focuses on – you guessed it, noodles! Soup Noodles, Stir-Fried Noodles, and a selection of Fried Rice dishes make up the bulk of the menu, with appetizers, soups, and a variety of Chef Speciality dishes filling in the rest.
Menu highlights include General Tso's Chicken, Oxtail Fried Rice, and Salt & Pepper Calamari.
The drink menu is equally as extensive with a selection of various wines, beers, cocktails, and Sakes to choose from. Don't forget about the bubble teas with Boba!
Read our complete review of La La Noodle Restaurant.
La Pizza e La Pasta
La Pizza e La Pasta is a great spot to try if you're looking for authentic Italian food without wanting to spend a fortune. They have delicious food options on the menu for both brunch and evening dining.
Conveniently located inside Eataly in Park MGM, it's the perfect place to head to after a day of shopping or if you're in the need for an afternoon coffee and cannolis!
Enjoy a variety of pasta and pizza dishes like the classic Bucanti Cacio E Pepe or the delicious Tartufella Pizza, and their selection of delicious Antipasti will leave you wanting more. La Pizza e La Pasta also has a wide selection of wines, cocktails, and beers, and for the perfect wine pairing for your meal, be sure to ask one of the waiters, they'll be more than happy to help!
Eataly
Eataly is one of the most interesting dining experiences at the Park MGM. With more than a dozen Italian Eateries that includes two in-house restaurants already covered in this list (Toscana Ristorante & Bar and La Pizza e La Pasta), as well as a variety of street food experiences, counters, and bars it almost feels as though you've stepped into a little Italian marketplace!
Italian cuisine is at the forefront of each dining location within Eataly. Here you can treat yourself to fresh Cannoli at Cannoli & Bomboloni, a nice bottle of Italian red to take home with you from the Wine Shop, a spot of brunch, or a sit-down dinner in one of the two on-site restaurants.
If you're looking for a bustling and authentic Italian marketplace atmosphere along with a wide variety of choices and things to see and do, Eataly is the perfect place on the Las Vegas Strip.
Side Betty Grill
Side Betty Grill at Park MGM is a delicious casual eatery, located conveniently next to the Bet MGM Sportsbook & Bar just off the casino floor – perfect if you're looking for somewhere to grab a bite to eat mid-slots session. They focus on satisfying major meaty cravings and feeding those with late-night appetites, as they're open 24 hours!
With neon lights and arcade machines, Side Betty Grill has a casual and fun atmosphere, perfect for anyone looking for a quick bite to eat. The menu features a huge selection of American fast-food eats such as Spicy Fried Chicken Sandwiches, Bacon Wrapped Dogs, and Chicken Wings. They also serve breakfast options until 11 am.
The Crack Shack
If you're in the mood for some fried chicken, a chicken sandwich or even just a tasty salad, head on over to The Crack Shack. They combine the flavors and quality of a fine dining restaurant with the casual setting and speedy service you get in a fast food place.
You'll need to head just outside of Park MGM to get to The Crack Shack as it's located right by the Las Vegas Strip and next door to Eataly.
Some of their menu specialities include the Firebird Fried Chicken Sandwich, the Baja Chop Salad and the BAE – Bacon, Avocado and Egg Sandwich.
Starbucks
Starbucks is a worldwide name, and is greatly known as being the one-stop-shop for coffee of all kinds, as well as light bites like sandwiches and pastries. So if you're just looking for a quick bite to eat or a refreshing drink there is a Starbucks conveniently located at the Park MGM.
Locations at Park MGM With Great Bars
If it's good tasting food and delicious drinks you're looking for, look no further than a few of the amazing bars on offer at Park MGM. Whether it's betting on sports at the sportsbook or grabbing a signature cocktail in a classy setting, there's plenty to do round the clock at this hotel!
The NoMad Bar
The NoMad Bar is one of the more upscale bars and eateries at the Park MGM. This is a restaurant that prides itself first as being an outstanding cocktail bar, which is why it is listed in this section rather than as a fine-dining restaurant – although it does both! This is the place to be if you're looking for a classy atmosphere and fine dining foods to go with your first class drinks.
They have a stunning and luxurious interior consisting of warm lighting, crimson velvet and leather furnishings, as well as a private garden seating option. This classy cocktail bar and restaurant is perfect whether you're looking to celebrate a special occasion or pamper yourself to an evening out! There's even live music on Thursdays – Sunday evenings.
The menu has a variety of freshly sourced seafood, shareable appetizers, and refreshing salads to accompany your drinks. Menu highlights include their Fava Bean Hummus, Oysters, Seafood Bites, Wagyu Prime Rib Sandwich and one of their specialties – the NoMad Tacos. The NoMad Bar is one of the best places to visit on your next trip to Vegas.
Bet MGM Sportsbook & Bar
Bet MGM is a great bar to visit if you enjoy putting a bet on the game while grabbing a drink or a bite to eat. Located just off of the casino floor, Bet MGM offers guests food, drinks, and plenty of TVs all around to catch the big games. With a variety of wagering options on sporting events and the sportsbook window and kiosks all within a few feet of you, Bet MGM is the place to be for sports fans and foodies alike.
The tailgate menu is filled with stadium food options like burgers, sandwiches, chicken tenders, and fries. They also have a huge selection of beers, cocktails, and wines. Don't forget that on Tuesdays Bet MGM Sportsbook & Bar at Park MGM has their Taco Tuesday night with all you can eat tacos!
Conclusion
Park MGM Hotel and Casino is an incredible and well known destination filled with an amazing selection of restaurants and eateries. There's something for everyone here, and whichever places you choose to eat at, you can't go wrong. I hope this guide was helpful and thanks for checking us out here at The Las Vegas Report!