The Cosmopolitan is a sophisticated and vibrant resort amid the Las Vegas Strip. In addition to their extravagant decor and lively atmosphere, they contain a collection of exceptional and distinguished restaurants. Many establishments also feature a cocktail hour or a DJ to compliment their upbeat, celebratory appeal. Whether you are looking for quick comfort food, casual dining, or a unique chef-driven experience, they've got it all.
Before we get started with our list, I'll share a pro-tip. Cosmopolitan Las Vegas has a player's rewards program that offers all kinds of benefits, including those for dining if you're a member. Membership is free. You can find more information here at Identity Rewards.
Restaurants in the Cosmopolitan:
There are many things to consider when selecting a restaurant at the Cosmopolitan. I broke down your options into categories based on a restaurant's prominent features and offerings to make your decision easier.
Fine Dining Restaurants in the Cosmopolitan
Las Vegas is known for its abundance of fine dining options, and at the Cosmopolitan, it is apparent why. They have a collection of restaurants that surround you with an elegant atmosphere and dazzle your tastebuds with renowned chef-driven cuisine. If you are ready for a night of five-star service, decadent flavors, and outstanding ambiance, this grouping fits the bill.
É by José Andrés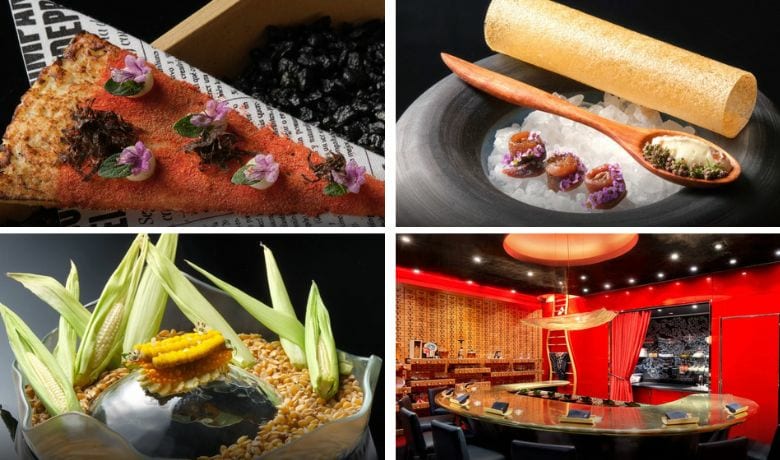 Internationally recognized for his culinary innovation, Restaurateur and Chef José Andrés bring you a tiny gem with this exclusive dining experience. Known for his award-winning group of restaurants across the United States and beyond, he does not disappoint, and É by José Andrés is just one example of why.
In a private room adjacent to Jaleo's paella grill and bar, you find an intimate area with seating for nine. It features a tasting menu of avant-garde Spanish dishes sure to excite. Reservations are a must if you want to get in on the action because they only have two seatings per night.
The space is accessed through a glass door and features a stunning steel-topped bar complemented by a red glass wall and velvet curtain. The decor speaks to the chef's vision of cooking as a performance and enhances the overall mood.
Red Plate
The classic appeal of Red Plate makes it a fantastic choice for an evening out. It offers stunning food presentations based on authentic Chinese flavors that we have all come to love. Chef Yip Cheung, a revered expert in multi-regional Chinese cuisine, leads his team to bring you an unparalleled dining experience.
Red Plate uses traditional Chinese preparation techniques to create authentic Cantonese dishes with a tinge of modern inspiration. Their menu is curated with signature roasted meats, decadent seafood dishes, handmade dim sum, and Chinese Hot Pot, which must be ordered 24 hours in advance.
Open four days a week for dinner, this restaurant is great for groups and intimate occasions. It features dark colors highlighted by red and gold accents to create an authentic decor style.
Read our complete review of Red Plate Restaurant.
Scarpetta
Scarpetta takes an earthy approach to Italian fare. They deliver modern, seasonally inspired dishes that make you want to savor your meal to the last drop. Their understated yet elegant design approach is also chic and welcoming, so you'll want to stay and soak in the ambiance.
The soulful menu of Scarpetta amplifies locally-sourced ingredients to create bold flavors. They prepare pasta in-house daily and are known for their simple yet exceptional Spaghetti and Nutella Bomboloni.
If you desire a more selective meal, I recommend the Chef's Table, where you can watch fresh pasta being crafted while viewing the Las Vegas Strip lights. It is led by Chef Michael Vitangeli and General Manager Mario Disi, who curate a distinct culinary showcase. Reservations are strongly recommended.
STK
Proudly brought to you by Executive Chef Stephen Hopcraft and The One Group, STK is a contemporary steakhouse with an upbeat atmosphere. It is open for dinner until late and features a social, lively brunch on the weekends. On Sundays, they also have extra entertainment for their Glitz and Glam brunch.
A flirty environment and a bustling bar scene give this restaurant a sexy and energetic appeal. An in-house DJ paired with a backdrop of smooth-flowing lines is perfect for enjoying their carefully crafted old fashioned menu.
STK has an inspiring menu that uses only the freshest ingredients to produce unexpected combinations with expansive appeal. They are known for their Shellfish Platter, raw bar, and bone-in or dry-aged steaks. The Chef's Tasting Menu is my top recommendation.
Zuma
Created by co-founder and Chef Rainer Becker, Zuma is the place for modern Japanese cuisine. Their concept is inspired by the informal izakaya dining style and completed by a sophisticated, elegant ambiance.
The menu at Zuma is authentic but not traditional. Designed for sharing and continuous presentation throughout the meal, it offers bolder flavors than typical. Aside from top-rate sushi, nigiri, and maki rolls, they also feature delicious skewers and signature meat and seafood dishes.
Award-winning cocktails pair wonderfully with the menu and can also be enjoyed at their beautiful raw-edge wooden bar. They are open for dinner daily and can easily accommodate parties of varying sizes.
Read our complete review of Zuma Restaurant.
Upscale and Casual Sit-Down Dining
The Cosmopolitan also has a variety of upscale and casual restaurants ideal for sharing quality food and cocktails with friends. While they still provide exceptional service in a striking environment, these dining options do it in a more relaxed setting. They are also great for families and informal gatherings without a strict dress code.
Beauty & Essex
Beauty & Essex has a new American style described as the Lower East Side of New York City's grit meeting the glam of the Las Vegas Strip. Modeled after the original location, it is configured as a speakeasy lounge hidden behind a pawn shop storefront.
Partnered with the acclaimed Chef Chris Santos and the TAO Group, this unique spot delivers unique shareable plates and classic cocktails with a contemporary flair. Their distinct dishes include Grilled Cheese Dumplings, Tuna Poke Wonton Tacos, and a Chef's selection of desserts.
Open for dinner, the stunning decor of this bar is perfect for dates and groups. It has luxurious lounge seating, elegant chandeliers, inviting booths, and tables located in several jewelry box rooms.
Blue Ribbon
At Blue Ribbon, master Chefs Eric and Bruce Bromberg bring you mouth-watering American cuisine. This location is a new version of their beloved New York City restaurant, dubbed the place "where chefs go to eat," and takes inspiration from the high energy of the Las Vegas Strip.
Open for dinner and late-night service, they offer a menu of casual yet innovative cuisine. Signature dishes include items like Fried Chicken and Beef Marrow & Oxtail Marmalade. They also have a variety of raw bar offerings and an allergy menu, ensuring everyone can enjoy.
Blue Ribbon's extensive drink and wine menu pairs excellently with the food. Their decor incorporates warm leather booths, comfortable seating, and a laid-back yet sophisticated ambiance that will make you want to hang out longer.
China Poblano
Brought to you by Chef José Andrés, China Poblano is an innovative concept that blends Chinese and Mexican flavors. The unique combination results in authentic and inspired dishes that are fun and unexpected.
The menu is focused on fresh ingredients and offers signature dishes such as Dan Dan Mian, Taco de Carnitas, and Mango Sticky Rice. If you want to try it all, choose the Chef's Experience menu, which takes you on a tour of modern and traditional flavors.
Both bench and counter-style seating ensure this restaurant can easily accommodate groups of all sizes. While they have a take-out menu, the bright colors and quirky accents like wheels on the ceiling will make you want to stay on-site for your meal. They are open for lunch and dinner service.
The Henry
The Henry is a modern American eatery paired with casual upscale appeal. Their menu puts a unique twist on comfort food and is excellent for all types of eaters. The restaurant has an elevated neighborhood feel complimented by colorful accents and eclectic presentations.
For all-around convenience, this quality spot is open for breakfast, lunch, and overnight. They feature late-night menus, a gluten-free menu, and a top-rate Sunday brunch to satisfy your cravings at any time.
The food selection focuses on fun and untraditional serving methods for cocktails and cuisine. Some of their most popular dishes include Henry's Brioche French Toast, Signature Short Rib Benedict, and Warm Made-to-Order Beignets.
Holsteins
If you are looking for a place that is great for spending time with family and friends, Holsteins makes an outstanding choice. It takes a funky and homegrown approach to food and drinks that people of all ages are sure to love.
They are known for signature crafted burgers on black and white sesame brioche buns and American snacks like Cheese Curds or Bacon Mac N Cheese. For drinks, check out their moonshine menu with top-shelf whiskeys and signature Bam-Boozled Shakes in various flavors.
Their menu and ambiance are also perfect for celebrations and groups, thanks to shareable plates. Holsteins' decor features life-size neon pink cows, leather tufted booths, red accent chairs, and bright pop art provided by local artists to curate a unique and photo-worthy setting.
Jaleo
Chef José Andrés and his ThinkFoodGroup are at it again with Jaleo. The original establishment is a perennial favorite in Washington, D.C., and helped to set the standard for Spanish food here in America. Now in Las Vegas, the new location evokes excitement and spectacle.
The award-winning flavors of authentic Spanish cuisine and tapas make this spot ideal for sharing and groups. It is open for dinner and has an allergen menu to assist with dietary restrictions.
Jaleo is known for Croquetas de Pollo, Gambas al Ajillo, and a dish that consists of toasted bread with brushed tomato. Their menu also contains a selection of dry-cured ham from the revered black-footed Iberico pigs, denoting a high level of quality.
Momofuku
Originally founded in New York City in 2004 by Chef David Chang, Momofuku has gained worldwide recognition and many accolades, including two Michelin Stars for Momofuku Ko. The Cosmopolitan location brings you award-winning dishes in an elegant atmosphere.
Momofuku's influential menu features Asian American food influenced by cuisine from Korea, Japan, and the United States. Fan favorites include signature dishes like Truffle Ramen, 5 Spice Roasted Duck, and Pork Belly Buns.
They also have a large format menu and shareable meat and seafood selections that are ideal for groups. You can also find a selection of sake, beer, cocktails, and wine. Open for lunch and dinner, stop by for an unforgettable dining experience.
Read our complete review of Momofuku Restaurant.
Overlook Grill
Open seasonally, the Overlook Grill is the perfect spot for casual outdoor dining. This cafe-style restaurant is adjacent to the Boulevard pool, adding a bit of scenery and excitement to your sunlit meal.
The menu is highly appealing to various preferences, thanks to its focus on traditional American and international favorites. Their dishes highlight taste and originality infused with fresh ingredients. Unforgettable dishes include their Signature Shrimp Tacos, OG Double Smash Burger, and OG Omelet.
A laid-back atmosphere with vivid, colorful designs makes this a great place to stop for a casual breakfast, brunch, or lunch. They also feature handcrafted seasonal cocktails and brunch specials like bottomless mimosas, bloody marys, or rosé.
Superfrico
At Superfrico, world-class creatives break rules and unleash their imaginative culinary and drink ideas for a truly memorable experience. Their self-proclaimed Italian American Psychedelic menu places a modern lens on Old World Italian cooks and is available daily from five until late.
The chefs at Surpefrico reimagine classic cuisine to create mind-blowing textures, flavors, and techniques that overload your senses. Signature pizzas, house-made pasta, seafood, steaks, and more make this an excellent destination for almost any occasion.
Aside from food, this spot has an unmissable atmosphere, like a house party. They have an all-vinyl DJ and wall-to-wall decor in their explorable lounges, bars, and dining rooms. You can also enjoy unique spaces such as the Ski Lodge for a ritzy yet comfortable environment.
Wicked Spoon
The Wicked Spoon is a multicultural buffet with an elevated feel and outstanding cuisine. It easily satisfies your cravings while also enabling you to discover new dishes.
Unlike other Las Vegas Strip choices, this buffet provides a unique market dining experience and boasts top-quality options. Their selections incorporate familiar staples and seasonal plates amid a cold food bar and various stations. They are also known for their vast array of scrumptious desserts.
In addition to food, you can indulge in one of their bottomless drink options, including specialty cocktails, for an upcharge. This option is a fantastic place for groups of all sizes, including large parties or dining solo.
Quick Eats – Drinks – Coffee – Desserts
This section explores fast and convenient eatery options that do not require sit-down service. If you are looking for coffee drinks, sweet treats, or breakfast to-go without making a complete stop, the following restaurants are the perfect solution.
Eggslut
Founded in 2011 by Alvin Cailan, Eggslut brings you gourmet comfort food in an innovative fashion. It is ideal if you want breakfast or early lunch and walk-up counter-style service combined. Their signature dishes include egg sandwiches served on warm brioche buns and more.
The Juice Standard
Cold-pressed juices and nut milks are made every morning from organic produce at The Juice Standard. They utilize advanced extraction processes to preserve enzymes and bring you a delicious, nutrient-dense drink. They also have a small menu of chewable options and cocktails. This is the location for recharging, detoxing, and vegans.
The Milk Bar
Award-winning Chef Christina Tosi's Milk Bar puts a playful twist on savory snacks and homestyle desserts like cookies, cakes, shakes, and soft-serve ice cream. While you can find their signature Milk Bar Pie here, they also feature exclusive items not found in other locations, such as alcohol-infused shakes.
Starbucks
As you would expect, coffee, tea, and baked goods can all be found at Starbucks. However, this shop is situated among a permanent art installation by French artist and photographer Georges Rousse. You can always grab something to go, but I recommend you sit and enjoy the display before you head off to your next destination.
Va Bene Caffè
The casino floor location of this shop makes it highly convenient as you pass through or stop to play some games. It has the appeal of a polished Italian coffee bar and features fresh-baked pastries and espresso drinks created by master baristas.
Secret Pizza
Lacking a sign and formal listing, Secret Pizza is hidden on level 3 of the Boulevard Tower. You find a walk-up counter serving delicious New York-style pizza at the end of a hallway lined with album covers. Slices and whole pies are available, and they are open from about 11 AM to 4 AM daily, making them the perfect post-party indulgence.
Block 16 Urban Food Hall
With easy-to-love food and drink, Block 16 Urban Food Hall presents crave-able foods from around the country for your entire group. It has a lively atmosphere, and its eateries offer food from breakfast to late at night. Best of all, you and your family or friends don't have to agree on eating the same thing.
Bāng Bar by Momofuku
At Bāng Bar by Momofuku, Chef David Chang and his team have applied an Asian-accented twist to sandwiches and bowls. You can pick up spit-roasted meats, freshly griddled flatbread, and delicious wraps to enjoy quickly and easily. Open for lunch and dinner, if you want a unique and enticing flavor profile, this place delivers.
District: Donuts. Sliders. Brew.
Originally from New Orleans, District: Donuts. Sliders. Brew. can now be found at the Cosmopolitan. They are known for their expansive collection of unique craft donuts. Also, they feature Southern favorites like scratch biscuit sandwiches, specialty coffees, and espresso drinks to accommodate your breakfast to late lunch cravings.
Ghost Donkey: Mezcal and Tequila Bar
Inspired by the intriguing ingredients of Mexico, Ghost Donkey brings you a fiesta experience with elevated flavors. Originally located in New York City, they offer small bites, including their fan favorite, Truffle Nachos, and are open for dinner and late night on the weekend. Their menu is paired with an extensive collection of mezcal and craft cocktails.
Hattie B's Hot Chicken
A Nashville institution, Hattie B's Hot Chicken emphasizes flavor, quality, and Southern hospitality. As the name suggests, hot fried chicken, available in varying heat levels, is the thing to get here. This counter-service eatery also features local brews and comfort food sides like Southern Greens and Banana Pudding.
Lardo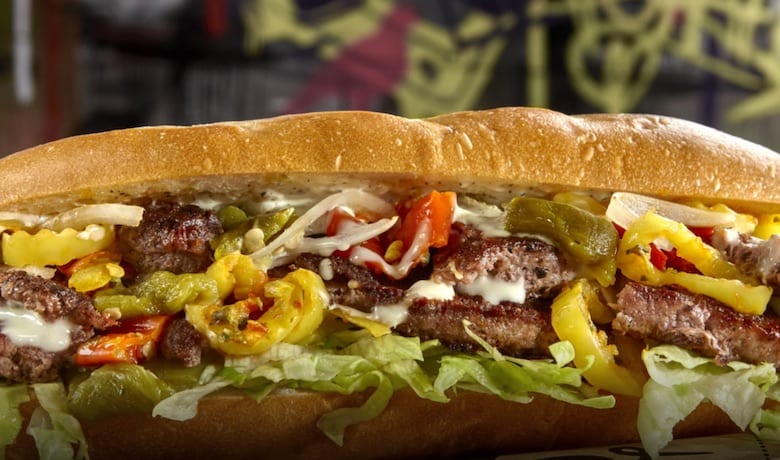 Portland Chef Rick Gencarelli's Lardo is the place for big sandwiches with intense flavors. Their menu contains carefully formulated favorites like their Korean Pork Shoulder Sandwich and signature Dirty Fries. They are open for lunch and dinner and feature Portland beers on tap.
Tekka Bar: Handroll & Sake
Reminiscent of the ancient gambling destination in Japan, Tekka Bar: Handroll & Sake features the freshest seafood and an eclectic sake selection. Their rolls are made to order counter-side, and you can take creations to-go or enjoy their bar seating. If you like spicy sauce, don't miss their signature Tekka Tuna Roll.
Conclusion
The Cosmopolitan is an energetic, sexy resort filled with exceptional and enticing restaurants. Considering all the distinct dining options, it may be tricky to decide where to start but rest assured; you will be more than satisfied. I hope this guide was helpful, and thanks for checking us out here at the Las Vegas Report!