This iconic circus themed resort is a hard one to miss if you're at the north end of the strip. With its circus tent shaped entrance and giant clown signage, this fun-loving hotel offers guests not only a visual marvel to experience but all kinds of things to see and do. There's also plenty of places to stop for something to eat. Let's take a look at all the restaurants and eateries Circus Circus has to offer.
Before we get started with our list, I'll share a pro-tip. Circus Circus Las Vegas has a player's rewards program that offers all kinds of benefits including those for dining if you're a member. Membership is free. You can find more information here at Circus Players Club.
Restaurants at Circus Circus:
Here's a quick breakdown of the restaurants in Circus Circus so you can choose the best spot to fit your needs. Circus Circus is short on high-end restaurants but has a solid selection of casual sit down restaurants and quick grab and go places so keep that in mind as you read through this guide.
Fine Dining at Circus Circus
The choice is pretty simple when it comes to fine dining at Circus Circus as there's only one place to choose from. Oftentimes having too much choice can bog you down and be overwhelming. If you're looking for a solid steakhouse experience, The Steak House at Circus Circus is the perfect place for any occasion.
The Steak House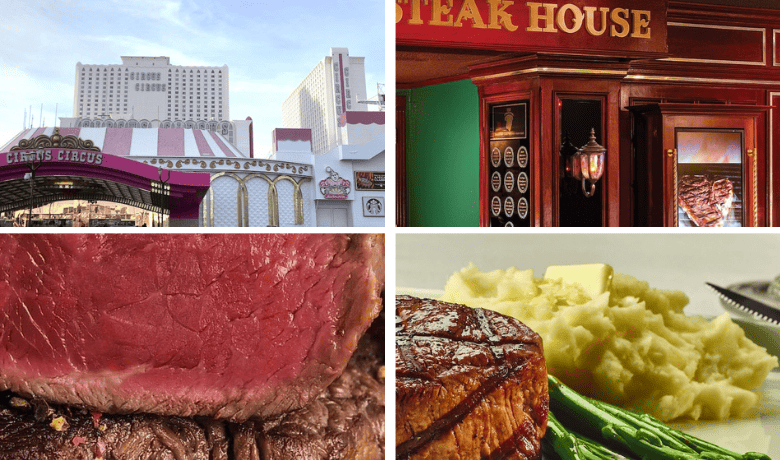 The Steak House serves up plenty of delicious favorites from their Mesquite Charcoal grill, in exhibition style cooking. Yes, that's right. This restaurant provides guests with a full view into the glass enclosed kitchen where you can see the chef team hard at work preparing only the best Midwestern dry aged beef.
One thing that I really like about The Steak House at Circus Circus is their simple and focused menu. There isn't a lot of choice, but sometimes that's not a bad thing. It's a straightforward one page menu with a select offering of steaks and seafood. Rounding out the menu are choices of shareable appetizers and individual salads.
The menu highlights include the Rib-Eye On The Bone, Sweet Chili Glazed Salmon, Broiled Lobster Tail, Grilled Garlic Shrimp, and Alaskan King Crab Legs.
Circus Circus Casual Sit Down Restaurant Options
These restaurant options at Circus Circus are great for those on a budget or those traveling with families. With a couple young kids myself, I know how tough it can be when it comes to dining out with little ones. A restaurant with kid friendly food options and a casual atmosphere for diners is exactly what you may be looking for. Take a look at the options below.
Pizzeria
There's nothing like the smell of freshly baked pizza! Enjoy made-to-order pizzas with your favorite toppings, or, if you're in the mood for something a little lighter, you can grab a soup or a salad instead.
Appetizers like Mozzarella Sticks with Marinara Sauce or Breaded Chicken Fingers are always a hit. If you're struggling with decision fatigue and don't want a made-to-order pizza, go with one of the specialty choices. The BBQ Chicken or Midway Meat Medley pizzas are fantastic.
Want something a little different? The Italian and Southwestern calzones really hit the spot. Not enough carbs? Go with an order of the Spaghetti Marinara or Lasagna with a side of breadsticks.
Pizzeria is a great place to dine in or take to go.
Blue Iguana
Blue Iguana has some of the best authentic and fast Mexican food for those looking for south of the border cuisine. You'll find everything you'd expect to see on a Mexican food restaurant menu like burritos, enchiladas, quesadillas, and tacos.
Be sure to check out some of Blue Iguana's classic dishes, such as the Grande Chimichanga, Oaxacan Chicken Mole Enchiladas, Carne Asada Platter, Iguana Chicken Bowl, or the Taco Al Pastor.
Big Top Eats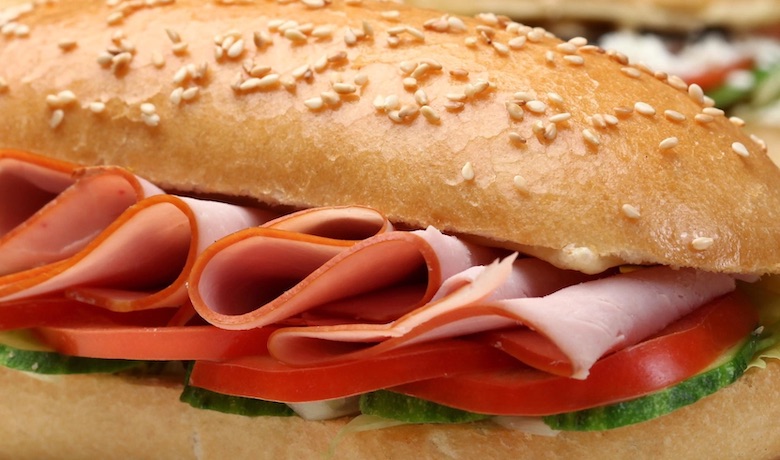 There's nothing more convenient and satisfying than being able to sit down and grab a great plate of comfort food at any time of the day! Enjoy breakfast choices, foot-long hot dogs, made-to-order deli sandwiches and a variety of other classic dishes including burgers, chicken tenders, and fries.
Big Top Eats is open 24/7.
Circus Buffet
Nothing says you're in Las Vegas quite like a trip to a buffet. Serving a wide variety of foods and cuisines from all over the world, Circus Buffet has something for everyone. A buffet is probably one of the best places to eat when traveling with picky eaters (kids) and the greatest part is it's all you can eat so go back and grab as much as you'd like!
Coffee, Snacks, and Quick Eats at Circus Circus
When it comes to quick eats, snacks and coffee, Circus Circus more than has you covered. This family friendly resort ensures they cater to everyone with their vast selection of fast-food favorites, convenient coffee chains, and superb snack stops!
Starbucks
Nothing compares to the smell of freshly brewed coffee in the morning! Enjoy all your favorite Starbucks classics at this conveniently located cafe on the promenade level.
Krispy Kreme
Krispy Kreme has some of the best donuts in existence, along with specialty coffee and espresso drinks, this chain provides sweet treats for everyone to enjoy.
Cocolini
Cocolini features some of the best flavors of Italian Gelato that the Las Vegas Strip has to offer. It's located on the promenade level and makes for a great place to grab a creamy cool treat.
Auntie Anne's
Nothing says grab and go quite like an Auntie Anne's pretzel. Try some of their famous flavors like cinnamon sugar, sweet almond, sour cream and onion, or roasted garlic and parmesan. These savory or sweet pretzels won't disappoint. You can get pretzel nuggets or a pretzel dog, as well as lemonades and teas.
Popeyes
Popeyes is world famous for being the go-to-place for a classic chicken sandwich. With a variety of tasty fast-food options on the menu, popeyes is both delicious and convenient for a lunchtime treat or a light dinner.
Pick Up Stix
This open-kitchen eatery has a variety of delicious classic Asian dishes to choose from, including their famous Grilled Bourbon Chicken, House Special Chicken, Orange Peel Chicken, Mongolian Beef, and Firecracker Chicken. They also have a great selection of appetizers and side plates to choose from, such as Cream Cheese Wontons and Egg Rolls.
Einstein Bros Bagels
Einstein Bros Bagels offers guests delicious fresh bagels, sandwiches, coffee, and snacks. Conveniently located near the casino floor, this little bagel place is great for quick breakfasts on the go, or if you're just craving a little snack in the afternoon!
Dairy Queen
Nothing takes the edge off of that overwhelming Nevada heat quite like a delicious ice cream! Enjoy all of the Dairy Queen classics from their store at Circus Circus.
Conclusion:
Circus Circus with its fun loving decor and design inspired by a traditional Circus is a perfect spot to visit when traveling with the family. You're sure to enjoy everything this memorable Las Vegas resort has to offer including the vast quick food options. I hope this guide was helpful and thanks for checking us out here at The Las Vegas Report!