The southern Strip location of the MGM Grand Hotel & Casino puts you close to all the action Las Vegas offers. It is conveniently located across the Strip from the T-Mobile Arena and has the Garden Arena on site, putting a world of entertainment at your fingertips. In addition, it boasts a collection of spectacular dining options. With celebrity chefs, fine dining restaurants, casual sit-down spots, quick grab-and-go eateries, and more, your hunger will be satisfied on every level.
Before we get started with our list, I'll share a pro-tip. The MGM Grand Las Vegas is a part of MGM Resorts, so if you're an MGM Rewards member, you can earn points for dining. Membership is free. You can even pay for your meal or part of it if you have enough points. You can find more information here at MGM Resorts – MGM Rewards.
Restaurants in MGM Grand
There are many things to consider when deciding where to eat at the MGM Grand Hotel & Casino. I broke the restaurants into categories based on their most prominent features and offerings to help make things easier for you.
Fine Dining Restaurants in the MGM Grand
The MGM Grand Hotel & Casino is home to some of the best fine dining restaurants in Las Vegas. With celebrity chefs, lavish decor, and stellar service standards, you will not be disappointed. The following restaurants make the perfect backdrop for sophisticated cocktails, date nights, and special occasions.
Joël Robuchon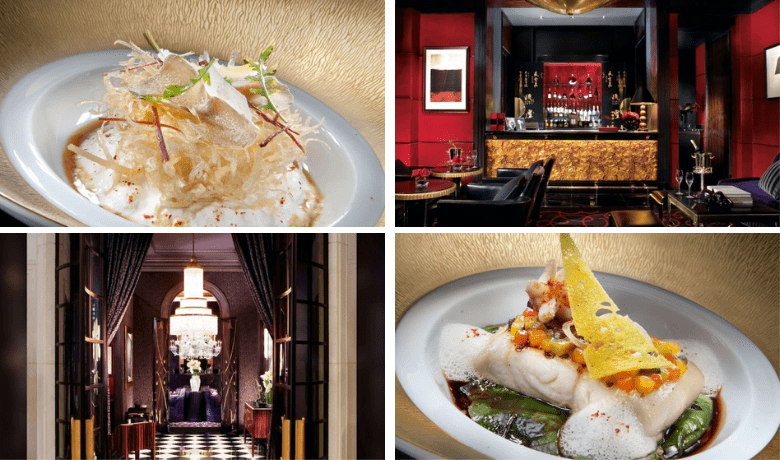 French perfection awaits at Joël Robuchon. Proudly a Three Michelin Star restaurant, it is sure to provide you with one of the best meals you have ever had. Its extravagant setting and culinary excellence bring you an unparalleled dining experience from start to finish. Reservations are strongly recommended.
Joël Robuchon's French cuisine blends delectable flavors to bring you truly mouth-watering dishes with mind-blowing presentations. Featuring a Prix Fixe Menu and a Tasting Menu, simply sit back and let the chefs amaze you. There is also a full bar with an extensive wine list to complement your meal.
Resembling an Art Deco townhouse with marble floors and a garden terrace, the atmosphere at Joël Robuchon is inviting and luxurious. Rooms with deep purples and reds accented by gold embellishments create an undisputed level of refinery and class.
L'Atelier de Joël Robuchon
At L'Atelier de Joël Robuchon, highly-awarded French Chef Joël Robuchon brings a unique culinary concept that showcases preparation. Unobstructed views of the open kitchen allow you to watch while your meal is carefully constructed by culinary masters.
Referred to as a culinary workshop, the artistic chefs here make French-influenced entrees and tapas. Depending on your preference, the dishes can be ordered a la carte or you can opt for one of their Tasting Menus, which gives you a complete tour of the kitchen's capabilities.
Deep red accents and elegant lighting create a sexy ambiance at L'Atelier. Its friendly and interactive atmosphere is perfect for date nights, special occasions, and elevated evenings out. It is located next to Cirque Du Soleil's KÀ theater and is open for dinner from Thursday through Monday.
Hakkasan Restaurant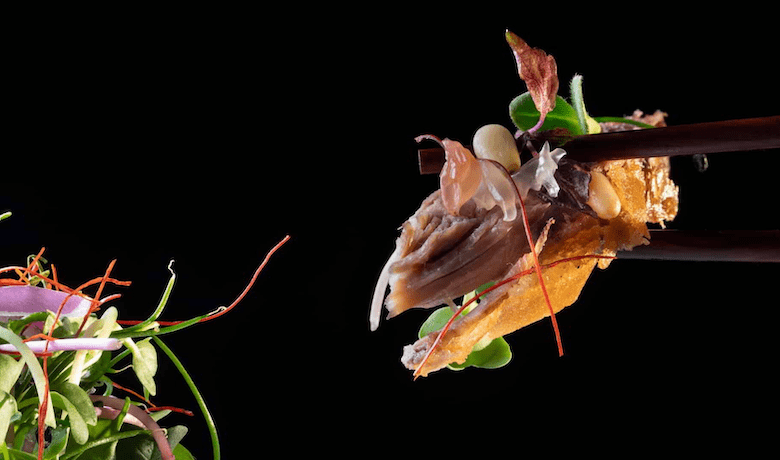 Hakkasan Restaurant serves contemporary Chinese cuisine in a stylish, fine dining setting. Similar to the London flagship location, its glamorous interior features intricate wood screens and latticing to create an intimate ambiance.
With a focus on Cantonese dishes, the menu at this restaurant has something for everyone. They are known for their famous Crispy Duck Salad, Peking Duck served with caviar and more. I recommend trying one of their Signature Menus paired with a specialty cocktail or a bottle off their extensive wine list.
Hakkasan Restaurant has two private dining rooms, making it a wonderful place for groups and celebrations with friends. It is open for dinner daily and easily accommodates gluten-free, vegetarian, and vegan dietary needs.
Read our complete review of Hakkasan Restaurant.
Tom Colicchio's Craftsteak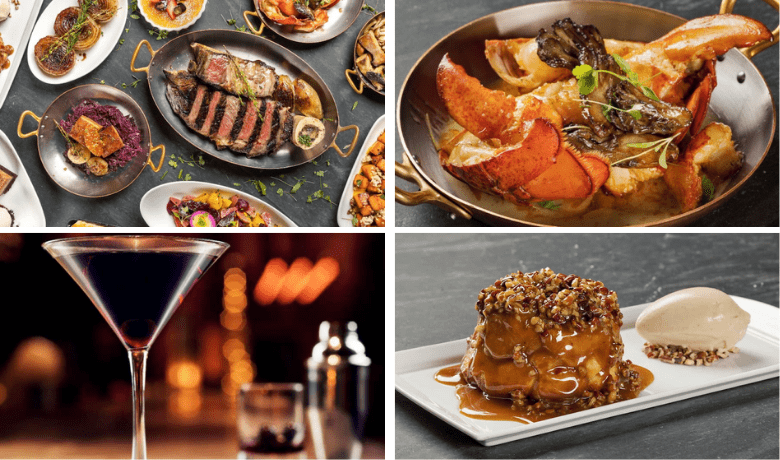 Brought to you by Chef Tom Colicchio, Craftsteak takes culinary classics to the next level. As a James Beard Award winner and Top Chef personality, Tom Colicchio knows what it takes to curate specialty dishes overflowing with flavor.
The menu at Craftsteak utilizes the finest ingredients sourced from day-boat fishermen, artisanal producers, and small family farms. While premium steaks cooked to perfection are the menu's primary focus, fresh Salmon, Braised Lobster, and the Monkey Bread dessert also make excellent choices. The Chef's Three-Course Menu is a great way to sample several dishes.
The natural design elements and plush seating in Tom Colicchio's Craftsteak create a welcoming ambiance that is ideal for date nights, groups, and celebrations. Their award-winning wine, scotch, and bourbon list also make it a fantastic place for a drink.
Morimoto Las Vegas
At Morimoto Las Vegas, Iron Chef Masaharu Morimoto exceeds culinary expectations while playing by his own rules. The menu features a collection of delicious Japanese dishes with his signature flair. Open for dinner daily, it is a fantastic place for upscale dining with a laid-back vibe.
The cuisine at Morimoto is presented in a refined fashion, combining visual appeal with mouth-watering flavors. The lengthy menu includes cold and hot appetizers, salads, soups and noodles, savory entrees like Angry Chicken, steaks, sides, and more. They also offer sushi and sashimi Chef's Combination plates that are great for sharing.
Morimoto Las Vegas is filled with contemporary design elements that highlight Japanese elegance and beauty. Yasumichi Morita's exotic photographs also add a stunning element to the delicate and tasteful decor while creating a more approachable ambiance.
Read our complete review of Morimoto Restaurant.
Casual Sit-Down Dining at the MGM Grand
When you don't feel like dressing up and want a more laid-back dining experience, the following casual sit-down restaurants have you covered. They offer cuisine from around the world in a comfortable, no-frills setting that is great for groups, families, and more.
Ambra Italian Restaurant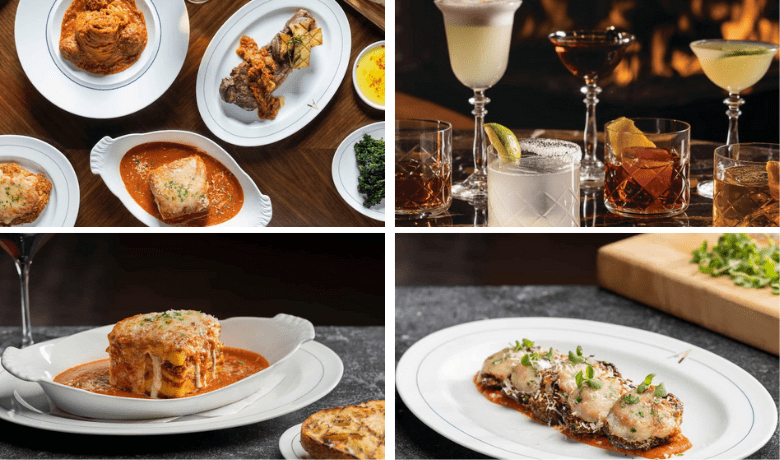 Ambra Italian Restaurant prepares authentic food with a fresh twist. Their lightened-up classic Italian cuisine is served in large, shareable portions, so it's an excellent place for families and groups. Try them out for dinner Friday through Tuesday.
The menu at Ambra is filled with crowd-pleasing dishes. It features antipasto, salads, house-made pastas, entrees, and classic Italian desserts like Tiramisu. Their signature dishes include Lobster & Artichoke Ravioli and Striploin Pizzaiola.
With Italian dining, food and drink go hand in hand. Abra's bar menu offers wine, specialty cocktails, and a collection of Amaros. They also have a long wooden bar that is great for enjoying a drink before or after your meal.
Grand Wok Noodle Bar
At Grand Wok Noodle Bar, you'll find traditional Asian cuisine in a casual atmosphere. They prepare all the Asian classics you love and focus on authentic, comforting flavors.
The house specialty at this restaurant is wok-tossed noodles. Whether you opt for a classic dish like Shrimp Pad Thai or Crispy Egg Noodles with Pork, expect a filling, delicious meal. The Black Pepper Steak and Mango Sticky Rice are other house favorites.
If someone in your group is gluten-free or vegetarian, this eatery can easily accommodate them. In addition to food, Grand Wok offers a collection of teas, non-alcoholic drinks, beer, wine, sake, and cocktails. They are open for lunch and dinner daily.
Read our complete review of Grand Wok Noodle Bar.
International Smoke
International Smoke is the creation of Chef Michael Mina and celebrity Ayesha Curry. They believe food is the heart of the community, and their new take on irresistible world cuisine reflects a desire to bring people together.
The eclectic menu at this restaurant is sure to appease all types of cravings. It offers appetizers like Ayesha's Fresh Baked Cornbread, Roasted Shellfish selections, seafood, Wood-Fired Steaks, homestyle sides, and everyone's favorite, saucy Smoked Ribs.
Everything at International Smoke is done with attitude and flair, and their cocktails are no exception to the rule. Some drinks are even served in a Spam tin. They have lots of bar seating and an alluring cocktail menu, so make sure to grab a drink.
Crush
Brought to you by the famed Morton restaurant family, Crush offers American cuisine in a relaxing environment. The space contains natural elements and lush greenery, creating a social, laid-back vibe perfect for enjoying a meal or cocktail.
Executive Chef William DeMarco's stand-out dishes encompass American favorites presented elegantly. House favorites include Maine Lobster Salad Rolls, Cheesesteak Dumplings, and the 8oz. Angus Burger. The menu also includes woodfired pizzas, pasta, fresh seafood, steaks, and tasty sides.
This playfully modern restaurant also serves delicious handcrafted cocktails, a collection of draft and bottled beers, ciders, bourbon and tequila flights, and mocktails. After dinner, try one of their dessert cocktails or a sweet treat like the Chocolate Mousse Cake.
Nellie's Southern Kitchen
Nellie's Southern Kitchen is a Jonas family experience brought straight from the South. Its menu of comfort food and American classics can satisfy any craving. The Las Vegas location also has exclusive offerings only found here.
Signature dishes at Nellie's include Chicken & Dumplings, Southern Meatloaf, Hawg Hill Smoked Pulled Pork, and Chicken & Waffles. They also have lighter fare, burgers, and more. Make sure to try some of their warm Southern Rolls!
The decor inside this restaurant has a rustic Southern charm that is laid-back and sophisticated. In addition to food and a great ambiance, Nellie's has an extensive bar menu. Come in for lunch or dinner daily.
TAP Sports Bar
A down-home feel and lively atmosphere greet you at TAP Sports Bar. The restaurant surrounds you with legendary sports memorabilia and 60 HD flatscreens so you can enjoy a game while you dine and drink.
Ice-cold beer and elevated bar fare create the menu at TAP. They offer burgers, salads, tacos, and classic entrees. They also have a long list of appetizers that are great for sharing. In addition to an extensive beer menu, you can also enjoy wine and specialty cocktails.
Open for lunch five days a week and dinner daily, TAP is a fantastic destination for sports lovers and anyone heading to or coming from a Vegas Knights game across the street. It can easily accommodate groups and makes a rowdy destination for singles.
Wolfgang Puck Bar & Grill
When you're in the mood for something familiar with an elevated twist, Wolfgang Puck Bar & Grill is just the place. It offers reinvented American bar and grill fare mixed with California-inspired cuisine amidst a lively, welcoming setting.
Wolfgang Puck is one of the most recognizable Chefs in the culinary world, and the menu here is just one example of why. The menu offers classics like Eggs Benedict, Ciabatta French Toast, and more for breakfast. Later, try choice cuts from the grill, wood-fired pizza, or something off their small bites menu.
The light and airy decor of this restaurant creates a clean, modern space perfect for a casual meal or cocktail. The full bar even includes bottomless draft beers and mimosas. Open from 8 AM until 2 or 4 AM, stop by almost anytime to satisfy your cravings.
Greek Sneek
Executive Chef of the Morton Group, William DeMarco, created the menu at Greek Sneek to reflect the fresh and flavorful food of the Mediterranean. His modern approach to classic Greek food is perfect for sharing with friends and family or a laid-back date night. Open for dinner daily, come in and enjoy the casual vibe and tasty Greek fare any day of the week.
While this eatery has a somewhat smaller menu than other places, the dishes it features are outstanding. Try their Classic Greek Spreads which include baba ganoush, tzatziki, and house-made hummus, Mykonos Salad, Gyros, or Baklava.
Just like the cuisine, the bar menu at this restaurant is Mediterranean-inspired. Indulge in handcrafted Greek cocktails made with native spirits, Greek wines, beer, and a collection of Ouzo with your meal.
Emeril's New Orleans Fish House
Chef Emeril Lagasse puts a modern spin on comfort food at his New Orleans Fish House. Using his signature cooking style, he built the menu with classic, flavorful Creole dishes. This spot is open for dinner daily, plus lunch Saturday through Tuesday.
Market fresh fish, shellfish, steak, pork, and chicken dishes can all be found on the Louisiana-style menu. For an exclusive experience highlighting the best this restaurant offers, make reservations at the Chef's Table.
An award-winning wine list pairs excellently with the cuisine at Emeril's New Orleans Fish House. The imaginative decor features sea-inspired elements, beautiful sculptures, and a coastal vibe that is warm and inviting. A private dining space is also available for groups.
Read our complete review of Emeril's New Orleans Fish House.
Avenue Café
At Avenue Café, breakfast and lunch are served in a vibrant, retro setting. High-backed booths and glamorous lighting put an old-school Vegas spin on your typical breakfast place that you won't want to miss.
Breakfast classics at Avenue Café include made-to-order omelets, Steak and Eggs, and a range of pancake options. The menu also features lighter fare and Mexican breakfast dishes like Huevos Rancheros. For lunch, you'll find starters, salads, burgers, sandwiches, and pasta.
Don't worry, they also have libations like mimosas and cocktails to kick-start your day. Open from 7 AM until 2 PM daily, it is a fantastic place for a relaxed morning or early afternoon meal.
Cabana Grill
Summer fresh dishes and drinks can be found right by the pool at Cabana Grill. Swing through to grab a cocktail or enjoy a meal in their relaxing outdoor setting. Even if you're not swimming, the view and vibe are exceptional.
For food, Cabana Grill prepares various poolside snacks that are great for sharing or dining solo. They also make sandwiches, salads, and a few sweets. House favorites include Sushi, Cheese Flatbread, and a Cheese Quesadilla.
The bar menu features frozen and mixed cocktails, perfect for enjoying in the sun. It also offers beer, wine, hard seltzers, and Jello Shots. This eatery is open for breakfast and lunch and gives you some fresh air while you lounge and indulge.
MGM Grand Buffet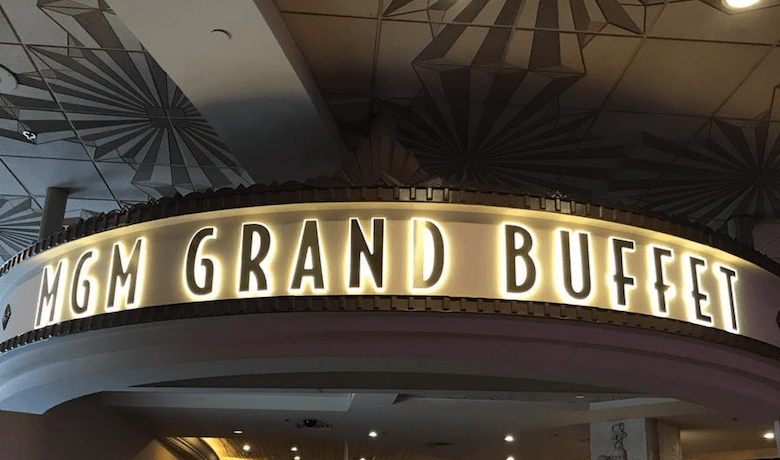 Open from 8 AM until 3 PM daily, the MGM Grand Buffet is the ideal spot for a casual meal. It easily accommodates varying tastes within a group and ensures everyone gets exactly what they want.
The menu at this restaurant is nothing short of spectacular. They offer anything from salad to pizza to pancakes. They also feature a fresh seafood bar, a carving station, made-to-order pasta, and an array of desserts. Whatever you're craving for breakfast or lunch, they've got you covered.
All-you-can-drink beer, wine, and mimosa specials make the MGM Grand buffet a great place for a celebratory brunch. You can also upgrade to get bottomless well drinks too.
Quick Eats – Drinks – Coffee – Desserts
The following eateries allow you to grab a bite or drink quickly and easily. Whether you desire a coffee, beverage, snack, or dessert, they have what you need. Stop by between activities or pick up something to take with you. Either way, these spots won't slow you down.
Pieology
At Pieology, they let you design your own artisan pizza. Offering a choice of doughs, cheeses, sauces, and toppings, they ensure you get exactly what you like most. Best of all, your custom pizza is prepared in a stone hearth and ready in just two minutes or less. They also offer a few salads to round out your meal.
Bonanno's New York Pizzeria
Bonanno's New York Pizzeria is an urban-style eatery that serves authentic New York-style slices and whole pies. The menu also features stromboli, pasta, salads, and draft beer. While Bonanno's has two establishments in the MGM Grand, one centrally located and another in the Food Court, the central restaurant is the only one that offers gelato.
Blizz Frozen Yogurt & Desserts
When you're craving something sweet, Blizz Frozen Yogurt & Desserts has just what you need. In addition to self-serve frozen yogurt, they also offer smoothies and crepes, making them a great place to grab a quick breakfast. They are open from 8 AM until 10 or 11 PM.
Starbucks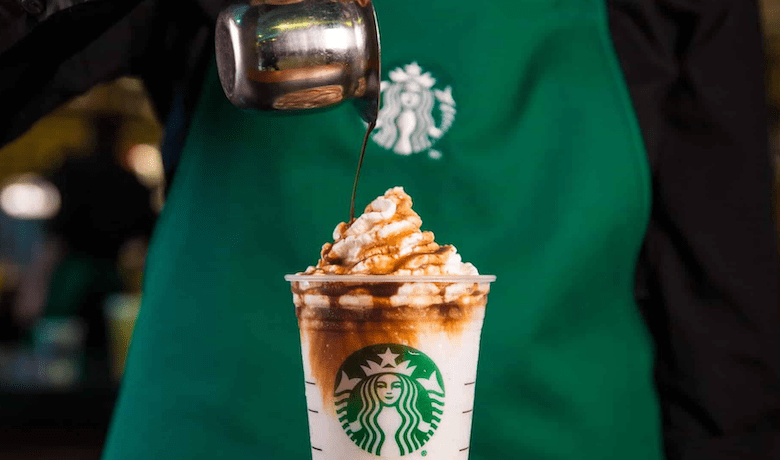 With a Lobby, Casino, and District location, Starbucks is never far away. Their handcrafted espresso drinks, premium teas, and tasty small bites make them the perfect spot for a snack or pick me up throughout the day. The three establishments have slightly different hours but they are open as early as 5 AM and as late as 8 PM.
Food Court at the MGM Grand
Open 24 hours a day, the Food Court at the MGM Grand is well-equipped to satisfy food cravings any time of day or night. It is the ideal spot to grab something quick in a fast-casual setting. The eateries offer familiar staples from around the world, so it's a great option for groups with varying tastes as well.
Pan Asian Express
The Pan Asian Express menu allows you to build your meal by choosing an entree and sides. While they offer classics like Orange Chicken, they also serve omelets and coffee in the morning. A few sweet treats and canned beers can also be found here.
Bonanno's New York Pizzeria
Just like the central location, Bonanno's New York Pizzeria in the Food Court serves New York-style slices and pies. They also have salads, stromboli, and pasta. This spot is open 23 hours a day so you can grab something delicious any time the craving hits.
Häagen-Dazs
Known for using the finest ingredients and flavors, Häagen-Dazs' all-natural ice cream has a long-lasting reputation for excellent quality. This shop brings you classic ice cream dishes, sorbet, frozen yogurt, and gelato in a convenient location. Stop by for dessert anytime between 11 AM and 1 AM.
Nathan's Famous Hotdogs
Nathan's Famous Hotdogs is known for its world-class dogs and crinkle-cut fries. However, their menu also includes salads, tasty sandwiches, and breakfast classics in the morning. Open from 7 AM until 3 AM, it is a great spot to start or finish your day.
Tacos N 'Ritas
At Tacos N 'Ritas, Mexican classics like quesadillas, tacos, burritos, and nachos hit the spot. Their generous portions feature fresh, bold flavors, tasty sauces, and can easily accommodate varying dietary preferences. As the name suggests, this eatery also offers delicious margaritas to go with your meal.
Johnny Rockets
As the only eatery in the food court open 24 hours, Johnny Rockets can truly satisfy your needs around the clock. They have a retro vibe and an All-American menu featuring 100% fresh Angus beef burgers, sandwiches, salads, fries, and milkshakes made from real ice cream. They also have plant-based burgers and vegan shakes.
Original Chicken Tender
At Original Chicken Tender, the name says it all. They offer perfectly cooked chicken tender meals and sandwiches with their Original Sauce. The menu also includes homemade milkshakes and homestyle sides like Fried Okra and Momma's Mac & Cheese.
Conclusion
The MGM Grand Hotel & Casino offers world-class amenities, entertainment, and dining options. With restaurants catering to a variety of tastes, I'm sure you'll more than enjoy each meal and experience something truly unique during your stay. I hope this guide was helpful, and thanks for checking us out here at the Las Vegas Report!